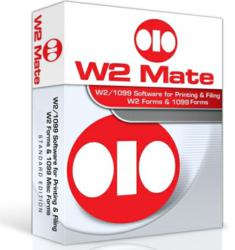 We are happy to offer this powerful 1099-PATR Software to the business and tax professionals community because it will greatly reduce time and effort for 1099PATR compliance
Chicago, IL (PRWEB) December 15, 2011
Real Business Solutions (http://www.W2Mate.com), the nationwide IRS 1099 compliance software provider, invites US cooperatives and tax professionals to try the 1099-PATR filing module available in its 1099 software. W2 Mate, W2 and 1099 processing solution, is loaded with features that make it easy and affordable for filers to prepare IRS 1099 forms including 1099-PATR (Taxable Distributions Received From Cooperatives). W2 Mate makes the 2011 / 2012 tax season is easy and stress-free.
The 1099 patronage filing module available inside W2 Mate software saves cooperatives time and money by printing 1099-PATR forms copy B (For Recipient) and Copy C (For Payer) on regular white paper. This eliminates the need to buy expensive laser red-ink 1099 Distributions From Cooperatives forms. All substitute forms generated by this 1099 printing software comply with IRS publication 1179 (General Rules and Specifications for Substitute Forms 1096, 1098, 1099, 5498, W-2G, and 1042-S).
Form 1099-PATR is furnished for each person to whom the cooperative has paid at least $10 in patronage dividends and other distributions described in section 6044-b (Returns regarding payments of patronage dividends) or from whom the cooperative withheld any federal income tax under the backup withholding rules regardless of the amount of the payment. A cooperative determined to be primarily engaged in the retail sale of goods or services that are generally for personal, living, or family use of the members may ask for and receive exemption from filing Form 1099-PATR. Dividends paid on a cooperative's capital stock is reported on Form 1099-DIV, Dividends and Distributions.
In a statement Nancy Walters, W2 Mate product manager at Real Business Solutions said, "This new release of W2 Mate reflects our commitment to delivering affordable and easy-to-use 1099-PATR filing solutions that help cooperatives and tax professionals, process 1099 patronage tax forms in-house."
W2 Mate has a unique mechanism for importing 1099 patronage data from different accounting and payroll software to allow users print and e-file 1099PATR forms.W2 Mate can import 1099-PATR and other 1099 information from Sage Peachtree (including Peachtree Pro Accounting and Peachtree Quantum), Intuit QuickBooks (QuickBooks Pro, QuickBooks Enterprise, QuickBooks Premier), Microsoft Dynamics (GP or SL), Microsoft Great Plains, Sage DacEasy and Excel / CSV.
W2 Mate can also generate 1099PATR electronic filing submissions ready to upload to the IRS FIRE System. The 1099 electronic processing module that ships with W2 Mate provides the capabilities for E-Filing the following forms with the government: W2, 1099-MISC, 1099-INT, 1099-DIV, 1099-R, W-3, 1096, 1099-S, 1098-T, 1098, 1099-A, 1099-B, 1099-C, 1099-PATR and 1099-OID. Processing W2s and 1099s electronically is easy to use, efficient, secure, fast, flexible, and above all saves filers valuable time and money.
W2 Mate software highlights:

W2 EFile support (Complies with SSA EFW2 format Specifications for Filing Forms W-2 Electronically)
1099 EFile support (Complies with IRS Publication 1220- Specifications for Filing Form 1099 Electronically)
Generates ready-to-email w2 forms and 1099 forms. Which eliminates the need to print and email W2s and 1099s.
For paper filers 1096 and W3 are automatically generated.
Unlimited W2 forms and 1099 forms.
SSA approved to print W2 & W3 forms on regular white paper, which eliminates the need for expensive forms.
Network ready with affordable pricing for multiple seats.
W2 and 1099 data checking and validation.
Prints on pre-printed 1099 forms & W2 Forms.
Prints 1099 Form Copies & W2 Copies on blank paper.
Direct data import for QuickBooks 1099 forms and QuickBooks W2 forms.
W2 1099 data import from CSV file.
Exports W2s and 1099s to excel.
A free 1099-PATR processing software demo can be downloaded by visiting http://www.W2Mate.com.
###