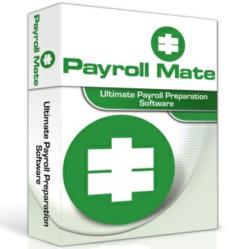 While a necessary part of any business, there is no doubt that doing payroll can be a headache. Payroll Mate makes doing payroll easy and stress-free.
Chicago, IL (PRWEB) December 16, 2011
Real Business Solutions (http://www.PayrollMate.com), a leading developer of payroll and 1099 software solutions, drives cost and time savings for tax preparers, accounting firms and CPAs. Through Payroll Mate, the payroll software program offered by the company, accountants and bookkeepers can manage the whole cycle of preparing payroll for their clients at an affordable price.
Payroll Mate is a comprehensive payroll system that fits the needs of accountants and small to medium size businesses. Payroll Mate automatically calculates net pay, federal withholding tax, Social Security tax, Medicare, state and local payroll taxes. Payroll Mate also supports different types of payroll pay periods, prints checks, prepares payroll forms 941, 940, 944, W-2, W-3, California DE-6 , California DE-7 , Texas C-3 , Texas C-4, New York NYS-45, Illinois 941 and Illinois UI-3/40. The payroll software allows unlimited tax categories, pre and post-tax deductions and unlimited pay rates per employee making it very flexible and powerful.
"The QuickBooks payroll export wizard that ships with Payroll Mate is one of the most sophisticated, yet easy to use QuickBooks export utilities available in the industry. We invested a lot of engineering time to ensure that this essential feature would work well for our customers." says Payroll Mate product manager Nancy Walters.
A free evaluation of the Payroll Mate payroll software can be downloaded from the free payroll software download page.
Payroll Mate is an excellent payroll software for accounting firms and tax professionals. Below is a short list of what this payroll system can do:

Exports Payroll Data to QuickBooks software.
Exports Payroll checks to Quicken and accounting software like Microsoft Office accounting.
Supports the following payroll forms: 941, 940, 944, W-2, W-3, California DE-6 , California DE-7 , Texas C-3 , Texas C-4, New York NYS-45, Illinois 941 and Illinois UI-3/40.
Automatically calculates federal payroll tax and state payroll tax withholding.
Handle payroll deductions that are exempt from federal and state taxes like 401K retirement plans.
Supports different types of pay periods including weekly, biweekly, semimonthly and monthly.
Supports customizable income, tax and deductions categories.
Supports income per mile and per piece.
Supports fringe benefits.
Exports payroll reports to Excel, CSV and PDF.
Prints on Laser and Inkjet checks.
Prints on preprinted red scannable W2 forms and W3 forms.
Free updates during the tax year.
One step backup and restore.
Generates comprehensive reports including payroll journal, tax liability and deposit requirement.
Runs over a network.
Generates Direct Deposit Files.
Ability to print MICR checks on blank check stock.
Give the payroll software from PayrollMate.com a test drive and see for yourself how easy managing payroll can be. Visit payroll system page.
###