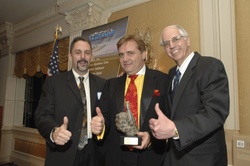 Winning this award is a true testament to the complexity and sophistication of our online ad-based solution we've built to support the music industry
NEW YORK (PRWEB) May 8, 2008
The LISA awards recognize excellence in a wide range of software products and seek to stimulate creative interaction among those engaged in software development and application on Long Island, and to give these activities a higher recognition.
"Winning this award is a true testament to the complexity and sophistication of our online ad-based solution we've built to support the music industry," said Joe Mohen, founder and chairman of SpiralFrog. "We are thrilled to be recognized for the many years of hard work and dedication. The result of that devotion and commitment is a highly scalable and dynamic system that combats the biggest issue facing the digital entertainment industry, piracy and illicit file-sharing."
The Long Island Software Awards is presented each year by the Long Island Software and Technology Network (LISTnet). SpiralFrog won the LISA Award based on the outstanding culmination of functionality, technical profile and software design and the impact SpiralFrog has made, and will continue to make in the future of software engineering.
SpiralFrog is pioneering the new market for advertising-supported digital music and aims to change the way people discover new music. With a robust mix of artist-related content, unlimited free and legal downloading, an active and engaging user experience, and a market-driven model to combat music piracy, SpiralFrog stands to be the quintessential alternative to illicit file-sharing sites.
About LISTnet
The objective of LISTnet is to promote Long Island as one of the national centers of excellence for Software and Technology solutions. This is achieved by facilitating collaborations between companies, establishing forums and events for the exchange of information, improving the quality / quantity of the labor force and partnering with companies that provide Long Island with all of the necessary services that will promote the continued growth of the Software and Technology Industries.
About SpiralFrog(TM)
Headquartered in New York, SpiralFrog(TM) (http://www.spiralfrog.com) is a Web-based advertising-supported music experience that combines music discovery tools with free and legal downloads of audio and video content licensed directly from the catalogs of the world's leading music owners. SpiralFrog offers music-lovers a compelling alternative to illicit file-sharing and pirate sites, with a secure environment for them to satisfy their unyielding passion and thirst for music and entertainment information at no cost.