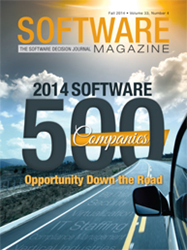 Center Harbor, NH (PRWEB) November 03, 2014
Smartware Group, producer of Bigfoot Computerized Maintenance Management Software (CMMS), announced its inclusion in the Software 500 list, now in its 32nd year. The company's ranking moved 10 places since last year, with 28.4% software and services revenues growth over the previous year. To see this year's list details, visit http://www.bigfootcmms.com.
The Software 500 is a revenue-based ranking of the world's largest software and services suppliers, targeting medium to large enterprises, their IT professionals, software developers, and business managers involved in software and services purchasing.
"The Software 500 helps CIOs, senior IT managers, and IT staff research and create the short list of business partners," says John P. Desmond, editor.
Software 500 and the Inc. 500|5000 add up to two prestigious industry lists that include Smartware Group in 2014. The company also took home Stevie and Golden Bridge awards recently for the creativity, usability and rich content of its newly-designed website and product solution.
The Bigfoot CMMS website is part of a major branding campaign to support Smartware Group's re-designed Bigfoot CMMS Enterprise and Enterprise+, introduced in June of this year. Both website and product suite employ a fluid, parallax design for large and small computer screens, that allow users to access all functions and essential data with intuitive ease and far fewer keystrokes. A new promotional video complements the Bigfoot CMMS website, giving organizations in search of a CMMS solution an engaging and informative experience with fast-paced animation and product feature and user navigation demonstrations. The new brand elements and modernized Bigfoot CMMS solution represent a significant shift in the conservative CMMS market.
To view the new Bigfoot video, go to http://www.bigfootcmms.com today.
About Smartware Group, Inc.
Smartware Group, Inc., headquartered in Center Harbor, N.H., produces Bigfoot CMMS for a variety of industries, from manufacturing to hospitality and tourism.
Since 2002, Bigfoot has helped more than 10,000 users worldwide improve facility and equipment maintenance operations with advanced capabilities that include preventive maintenance (PMs) and predictive maintenance, work order scheduling, maintenance requests, asset life cycle management, parts replacement inventory, and built-in reporting. Bigfoot CMMS' native functionality paired with its intuitive design allows maintenance professionals to implement the solution and get results quickly, often in a matter of weeks.
Visit http://www.bigfootcmms.com for a free trial of Bigfoot CMMS today.
# # #