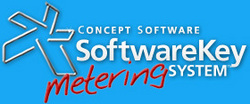 We're extremely pleased to see the continued momentum around our ThinApp Application Virtualization Technology in our partner community
Orlando, FL (PRWEB) August 28, 2009
Concept Software™, a leading vendor of software license management solutions, today announced the SoftwareKey Metering System, a license management solution allowing companies to control application access on the desktop, and analyze and report detailed application usage within or outside an organization's network. The latest SoftwareKey Metering release has been developed in close partnership with the VMwareThinApp Product Team. The beta version and a free video demo is available to the public, at SoftwareKeyMetering.com.
The functionality required to collect data and control access is injected directly into ThinApp executables. This system offers the following functionality and more:
Application Access Control:
From a central server, administrators can control:

Issuing temporary licenses/time limited licenses
Revoking unused or unauthorized licenses for particular installations or users
Preventing the application from running outside the corporate network
Optional integrated e-commerce module allows users to purchase their licenses if that is required
Usage Reporting for Compliance:
Administrators can collect application usage data for reporting and analysis. Data examples:

Name of application executed
Windows user name
Computer name
Start and approximate end times (accurate to within 1 minute)
Analyzing the above data along with information on licenses owned, administrators can either limit application usage to fit within their license pool, or decide to pay their software vendors if they use more than they have acquired.
Benefits:
Customers will see increased efficiencies from a more streamlined and integrated process for managing access to their desktop licenses. Having detailed application usage data allows customers to reduce software license costs by analyzing their license portfolio usage and eliminate unneeded or unused licenses. And finally, customers will be able to document their application license usage for better internal and external compliance purposes.
SoftwareKey Metering is built on SoftwareKey Protection PLUS™ and SOLO Server™ technologies that have evolved as strong, proven, functionality-rich technologies driven by feedback from 5,000 users in 118 countries over the past 15+ years. Learn more here: SoftwareKey.com
Optional Deployment Model:
Customers have the option of a fully in house on premise solution, or a SAAS (software as a service) model taking advantage of Concept Software's existing, proven SOLO Server™ technology that has managed millions of transactions over the past 10 years.
Reactions:
"We're extremely pleased to see the continued momentum around our ThinApp Application Virtualization Technology in our partner community" says Henrik Rosendahl, Director Application Virtualization at VMware, and continues: "We looked at many suppliers of software management and metering solutions, and we're thrilled that Concept Software, with their robust, functionally rich, and proven solution stepped up and were willing and able to adapt and integrate their solution to fit into the ThinApp architecture."
"We have spent 10+ years developing the best application management solution and we look forward to helping VMware's ThinApp customers get better control over their license usage on their desktops", says Peter M Jensen, Vice President Sales, Concept Software. The ThinApp product team has been extremely involved and helpful getting this product out the door."
"It's great seeing Concept Software and VMware working together to create an integrated license management solution for ThinApp. We stream Windows applications to our customers via our Apps On Demand service using VMware ThinApp and the SoftwareKey Metering System will give us complete control over who can run our applications, the ability to revoke licenses, and a complete overview of who has been running the applications for compliance purposes," says Ty Schwab, CEO/Director of Business Development at Blackhawk Technologies.
Pricing, Packaging and Availability:
SoftwareKey Metering compatible with ThinApp is offered for $5,000 in the US including unlimited applications for 100 users. Additional users are $10 per user. A Beta version is currently available, and the full production release will be available in September 2009.
The SAAS option is priced depending on number of applications, transaction volume, and number of users.
For more information on SoftwareKey Metering, please visit SoftwareKeyMetering
For more information on VMware ThinApp, please visit: VMware Thinapp
About Concept Software
Concept Software, Inc. is a privately held Florida-based software company with thousands of customers in more than 118 countries using the SoftwareKey Licensing System and inviting new customers to enjoy the benefits of the SoftwareKey Metering System. The company concentrates on meaningful one-on-one sales and support, consistently building new, relevant, product features and offers the industry standard for friendly technologies that redefine how people license, sell, and deliver software.
Contact:
Peter Jensen, Vice President Sales
Concept Software
Ph. 415-704-5070
###