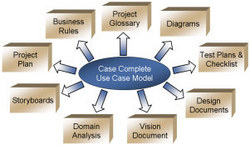 Since all diagrams can be shown directly in generated Word reports, it's easy to share Use Cases and their diagrams with the entire project team
Wauwatosa, WI (PRWEB) December 12, 2007
Serlio Software announced today the immediate availability of CaseComplete® 2008, the latest version of their powerful yet easy-to-use Use Case and requirements management tool. CaseComplete helps business analysts and developers approach requirements from the perspective of the end users of the system by guiding them through the process of authoring "Use Cases", an industry standard technique to document system behavior. As a result, project requirements created with CaseComplete are easier to understand than traditional requirement specifications, and more valuable to all the project stakeholders including end users, testers, and developers.
Now with CaseComplete 2008, project teams can supplement their requirements with a variety of diagrams including storyboards, user interface wireframes (or screen mockups), Use Case diagrams, and flow charts, all of which boost comprehension and increase the business value of the requirements.
"CaseComplete is quickly becoming the only tool necessary for our customers' project documentation", said Doug Earl, Vice President of Product Development. "Having Use Cases, requirements, business rules, user role definitions, glossary definitions, test plans, and now diagrams, all in one place and all inter-connected really makes the requirements gathering process easier and faster, and as a result, you end up with project requirements that are more accurate and more effective."
CaseComplete provides the ability to attach any number of diagrams to each Use Case. This is especially helpful when creating screen mockups because it allows readers of the Use Case to visualize the user experience as they go through the system's flow of events. "Since all diagrams can be shown directly in generated Word reports, it's easy to share Use Cases and their diagrams with the entire project team", Earl explained.
In addition, CaseComplete allows users to create Unified Modeling Language (UML) Use Case diagrams. "Use Case diagrams are valuable because they provide a big-picture overview of the system. CaseComplete makes it really easy to create them - you just need to drag and drop Use Cases onto a diagram, and CaseComplete automatically shows the relationships between them", Earl stated.
Pricing and Availability
A free 30-day trial of CaseComplete 2008 is available for download at http://www.casecomplete.com. Until the end of 2007, new licenses cost $495, with multiple-license discounts available. Existing users can upgrade for $148.
About Serlio Software
Serlio Software (http://www.serlio.com) is a team of highly experienced software development practitioners whose innovations have impacted software engineering's state of the art including the development of the world's leading Unified Modeling Language (UML) modeling tools. For over three years, CaseComplete® has been helping business analysts, project managers, and software architects gather clear and concise requirements in more reliable and consistent ways, ensuring that the software they develop matches the expectations of all stakeholders.
The mission of Serlio Software is to bridge the gap between the best principles in software engineering and the reality of effective practice. Founded in May 2002 and headquartered in Wauwatosa, Wisconsin, Serlio Software's offices are located in the Technology Innovation Center of the Milwaukee County Research Park, a center for intellectual and technological resources in the Upper Midwest.
###