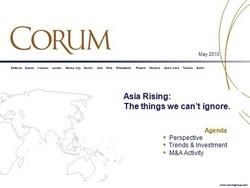 Corum Group's regular monthly Software M&A market update is a hard hitting global overview of regions, finance, technology, buyers, sellers, etc.
Seattle, WA (Vocus) May 18, 2010
Software mergers & acquisitions specialist Corum Group will repeat its "Asia Rising" M&A Briefing in two sessions this week on May 20 at times convenient to US, EU and Asian time zone audiences. The presentation paints a startling picture of the future of the technology industry – a future in which many of our fundamental assumptions about the distribution of innovation, infrastructure and economic power are turned upside down. It was originally shown on May 6 to hundreds of software executives from 17 countries, as part of Corum Group's monthly Software M&A Webinar, a concise update on the Software M&A market conditions, key transactions and valuations.
"Corum Group's regular monthly Software M&A market update is a hard hitting global overview of regions, finance, technology, buyers, sellers, etc.," explained Corum Vice President Jeff Brown. "This month our analysts turned the spotlight on the hot Asian stock markets, mega growth areas, strong currencies, and technology deal making environment." Corum also profiled the top deals and deal makers in Asia with analysis by country, strategies, the deals they are doing and the criteria they are using to buy.
Including a trend projection summary, Corum's exclusive report also featured special guests Mohamed Hamedi who sold his Intel-backed company to EdgeCore Networks in Taiwan; K. Srinivasan from acquirer Polaris Software in Chennai, India; Ping Lou from VanceInfo (NYSE:VIT) of Nanjing, PRC (the first China software development outsourcer listed on the New York Stock Exchange); and tech investor Tim Moore in Australia who sold two portfolio software firms recently.
Corum Group is the world's leading seller of privately held software, IT, internet and related technology companies with over 220 successful Software M&A transactions in its 25-year history, generating over $6 billion in wealth for the owners. Corum's global reach was in full evidence as some 11 Corum dealmakers, former clients and other M&A advisors provided regional software, internet and IT M&A updates from around the world ending in Asia.
Economic Highlights from Asia –Things Software Executives Simply Can't Ignore:

Asian currencies are set to keep on rising with new regulations while the Euro is at a one year low
IPO markets are strong with 2 to 3 times the IPO quantity when compared to US
By the year 2013, 50% of the global mobile phone connections will be made in Asia Pacific 17 countries
It's probably time to stop referring to the Asia Pacific 17 as developing countries
Why Is This Asia Rising Report Important and Relevant?
While western economies continue to wrestle with economic recovery and face an economic future dominated by debt and specifically bad debt, Asian economies are growing aggressively without the same financial baggage. How significant is this realignment of economic growth, technology innovation and ultimately wealth? Here are a few insights that Corum explores.
Forecast GDP – with 8 of the top 10 economies global GDP in 2010 is dominated by members of the OECD. Of the Asian countries, only Japan #3 and China #4 occupy positions in the top ten. Corum explores the changes to come, as the Asia Pacific-17 and BRIC countries come to dominate the top ten, and what the impact on software companies of these global winners -- and corresponding losers -- will be.
Is Internet adoption the best leading indicator of GDP growth? Corum's data shows a startling correlation revealing the magnitude of the untapped Asian market.
Is it possible to have an active IPO market without a venture capital infrastructure that nurtures and grows companies? Recent data from the Chinese market suggest that the traditional venture model that evolved in Silicon Valley may not directly apply to certain markets.
Corum Group presents this research as the leading provider of merger and acquisition services to entrepreneurial technology companies around the world, committed to the reality that technology crosses international borders. Corum has found from experience that finding the best buyer for a tech company requires global knowledge, global credibility, global relationships and a global search: today, over 60% of Corum's transactions are cross-border transactions.
In addition to its VIP and client passes, Corum will make a limited number of seats available to other software executives, who can register on a first-come basis at the http://MergersAndAcquisitions.webex.com website.
###