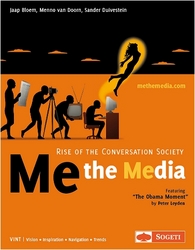 Dayton, OH (Vocus) September 11, 2009
Sogeti, a leading international provider of professional IT services, today announced that it will be hosting an event in the Des Moines, Iowa area designed to help companies gain a strategic approach to business considering new trends in media and communications. The event will be held September 18 from 7:30 AM to 10:00 AM at the Des Moines Golf and Country Club in West Des Moines, Iowa.
The event will highlight topics from Sogeti's book, Me the Media: The Rise of the Conversation Society, such as how today's personal media tools are transforming communications and how companies market their products and services. With web 2.0 the anonymous public has emerged as a part of every organization's business model and is rapidly impacting branding, product development, service benchmarks and even market valuation. Organizations accustomed to only traditional communications to the public rather than conversing with it are suffering.
The event's speaker is Erik van Ommeren, Director of the US branch of the Sogeti International Research Institute for New Technology, VINT. He is an author and public speaker on topics such as innovation, collaboration, service oriented architecture, crowd sourcing and new media. Van Ommeren will discuss several trends that shape today's society, show how they are combined and what companies' roles could be in this new reality.
With some inspiring examples, this event will look at what is happening today and explore what this could look like in the future. Van Ommeren shares, "Things like web2.0, Twitter and the conversation economy are terms that many companies use, but few seem to realize the great challenges that lie ahead to their business models, their marketing and their IT governance. These Me the Media events usually lead to great discussions inside companies and a new look at many things people already see happening all around them and how they can better be part of it."
Please register for the event by sending an email with your contact information to SogetiDesMoinesEvents (at) us (dot) sogeti (dot) com. Please note, this event has limited space. To view other upcoming Sogeti events please visit http://www.us.sogeti.com/who-we-are/events/.
For more information about Sogeti, please visit: http://www.us.sogeti.com.
About VINT
VINT, which stands for Vision, Inspiration, Navigation and Trends, is an international research group and was established in 1994. VINT was created to closely analyze industry trends and the latest technologies to help gain important insights and best practices that could easily translate and be used in public and private sector organizations.
About Sogeti USA
Sogeti USA is a premier provider of information technology services to businesses and public-sector organizations. Operating in 23 U.S. locations, Sogeti's business model is built on providing customers with local accountability and vast delivery expertise. Sogeti is a leader in helping clients develop, implement and manage practical IT solutions to help run their business better. With over 40 years of experience, Sogeti offers a comprehensive portfolio of services including Enterprise Microsoft Solutions, Enterprise Solutions Consulting, High Tech Consulting, IBM and Open Solutions and Testing/Quality Assurance.
###