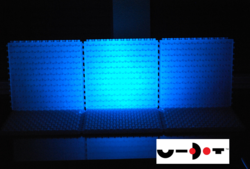 It seems to us that clutter and disorganization tend to get in your way when you're trying to be creative, so we've designed the Creative Space System to help you with that
San Diego, CA (PRWEB) September 13, 2012
It's the new American Dream—starting a new business with a Kickstarter launch . . . and screaming flying monkeys. Doug and Cheri Sohn are self-taught product designers living in San Diego, California. They have been dreaming for years of developing products based on their patented U-Dot connector system, but they didn't want investors or venture capital. "We don't plan a build it quick and sell it quick company. We're planning on building Sohn Systems into a company that lasts for generations," says Doug.
So they turned to the latest way to raise money to start a business—"crowd funding". "We are putting the project up on the Kickstarter site and people can become 'backers' and essentially pre-order the product," explains Doug. Cheri says, "It's a great way to find out if you have customers before you start making the product! And Kickstarter backers get really involved in the success of the product and the company."
Their first product is the "Creative Space System". "It's a system of modular panels, connected together with U-Dot's, that you build into the perfect organizer for the space where you do your creative work," says Doug. "And you can attach U-Dots to the backs of things you already have on your desk, then attach them to the panel to get them up and off your desk." Cheri explains, "It seems to us that clutter and disorganization tend to get in your way when you're trying to be creative, so we've designed the Creative Space System to help you with that."
The best part, according to Doug and Cheri, is that it doesn't use any tools or fasteners. "You can take those muffin tins you've been using to sort out the 2 dozen different sizes of screws and bolts and make muffins with those pans instead."
Is a million-dollar goal realistic for a brand-new company? "Actually, we've set our goal at just short of a million dollars, but we're hoping we'll go well past that. We think people are really going to like U-Dot and that they'll want to be part of starting this great new company," says Cheri.
The couple has found a local San Diego manufacturer to design and construct the molds for the product. That same company will manufacture the Creative Space Systems and ship them out to the Kickstarter backers, who have pre-ordered the Systems. "We really like the idea of supporting the local economy and helping to create jobs in our own home town," says Doug.
And what about the screaming flying monkeys? "Everybody gets a screaming flying monkey with our "S" logo on its cape, just for being a backer and helping us get started!" Cheri says. It doesn't have anything to do with getting organized, "It's just fun!" says Doug.
To find out more about screaming flying monkeys, and the U-Dot Kickstarter project, and the secret of the "blue glowing objects", take a look at their Kickstarter page. It's called Creative Space System and it will be live from September 13 though October 12.