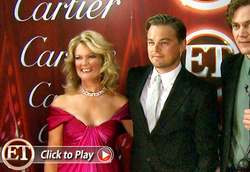 Palm Springs, CA (PRWEB) January 26, 2009
For the 11th year straight, Solana Productions, Inc., was front and center at the Palm Springs International Film Festival, as Leonardo DiCaprio, Clint Eastwood, Sean Penn, Dustin Hoffman, Anne Hathaway and other Hollywood stars were honored at the 2009 Awards Gala.
HD video crews from the San Diego video production company were once again in first position on the red carpet for star arrivals to the festival gala. In addition, Solana crews were the only ones allowed to record backstage multi-camera interviews with DiCaprio, Eastwood, Penn, Hathaway, Amy Adams, Dakota Fanning, director Ron Howard and other celebrities during the glamorous gala.
DiCaprio and his co-stars from the film, "Revolutionary Road" received the festival's Ensemble Performance Award, while film legend Eastwood was honored with the Career Achievement Award. Hoffman, another legendary actor, received the Chairman's Award, while "Doubt" star Adams took home the Spotlight Award. The Desert Palm Achievement Awards in acting were given to "Milk" star Sean Penn and "Rachel Getting Married's" Anne Hathaway. Howard was given the Life Achievement Award in Directing, and Fanning received the Rising Star Award. Other honorees included "Slumdog Millionaire" star Freida Pinto, who received the Breakthrough Performance Award, and "Milk" director Gus Van Sant, who received the Sonny Bono Visionary Award.
Solana Productions was tapped by "Entertainment Tonight" and "The Insider" for the high-profile assignment -- as they have been for the past 11 years.
"ET" host Mary Hart's exclusive backstage celebrity interviews were recorded by video crews using the Sony XDHD cameras. Solana has worked with Hart every year at the film festival since she became involved in 2003. Other crews from our video production company worked with "The Insider" correspondent Victoria Recano for the second year in a row, as she interviewed stars on the red carpet and in the gala's photo room.
Solana also shot exclusive backstage interviews with "Doubt" star Amy Adams, "Frost/Nixon" star Frank Langella, the cast of "Revolutionary Road" and Donald Sutherland. The footage was featured on "ET" and "The Insider" and ran on both shows' websites.
Solana Productions, Inc., is a San Diego video production company specializing in broadcast, cable, corporate and internet productions. More information is available at solanaproductions.com.
# # #