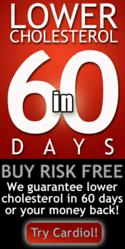 There is an epidemic of high cholesterol in this country, and it touches people of all ages.The problem is that traditional prescription drugs that lower cholesterol are expensive and can cause serious side effects, especially in young people
Solana Beach, CA (PRWEB) May 31, 2011
Solana Health's revealing How to Lower Cholesterol Naturally So You Can Live the Long, Happy Life You Deserve is a just-released free wellness report that details a 7-step approach for lowering LDL cholesterol and raising HDL cholesterol without prescription medication. Solana Health is a respected nutritional supplement company based in California.
The report was created specifically for health-conscious consumers that are eager to reduce 'bad' cholesterol levels and raise 'good' cholesterol levels without the expense and potentially harmful side effects of prescription medications. Solana Health offers their free report at the educational site: http://www.howtolowercholesterollevels.net
"The report explores various lifestyle modifications that have been proven to lower cholesterol naturally, with a special focus on diet and nutrition," explains Dave McMahon, founder and CEO of Solana Health. "It is an ideal tool for parents who want to make good health a family affair."
How to Lower Cholesterol is a Problem for Kids & Teens, Not Just Adults
Once just a problem for older Americans, high cholesterol is now affecting the health of teenagers and even children. "The American Academy of Pediatrics recommends that cholesterol screening for children who have a family history of high cholesterol should start after age 2 and before age 10," reports McMahon.
In 2010, federal health officials reported that at least one out of every five American teens has abnormal cholesterol levels. This boosts the risk of heart disease and other life-threatening illnesses. A national survey of blood cholesterol levels in American teenagers found that more than 20% of adolescents aged 12-19 had at least one abnormal blood fat level and the rate jumped to 43% among youngsters that are obese.
"There is an epidemic of high cholesterol in this country, and it touches people of all ages," observes McMahon. "The problem is that traditional prescription drugs that lower cholesterol are expensive and can cause serious side effects, especially in young people."
A One-and-Done Approach to Nutritional Supplementation
McMahon emphasizes that anyone can learn how to lower cholesterol naturally and points out that he is 'living proof' that a nutrition-based, medication-free approach really works. "After I turned 40, I had a physical and my doctor told me that my total cholesterol was 238," says McMahon. But rather than putting McMahon on a prescription drug regiment, the doctor recommended nutritional supplements of Omega-3 and Red Yeast Rice. "I tried them together along with a CoQ10 supplement and my total cholesterol went down over 20%," he reports.
The downside to the regimen was that McMahon was taking six pills a day and spending $80 a month. Convinced that there had to be a better way, McMahon researched nutritional supplements and discovered how to lower cholesterol with a product called Cardiol. The supplement has been available in Europe since 2008, and due to his efforts it is now registered with the FDA and available in the U.S.
"I was the first test case for Cardiol in the U.S.," says McMahon. "I've been taking it for seven months now and I've been checking my levels every two months, my LDL remains over 20% below where it was and my HDL is up over 10%."
Cardiol includes pharmaceutical-grade, potency-tested doses of nine natural ingredients proven to lower LDL "bad" cholesterol and triglycerides and raise HDL "good" cholesterol, including ultra pure Omega-3, Red Yeast Rice, CoQ10, as well as Niacin (Vitamin B3) and Resveratrol. Dosage is a single pill, taken once-a-day at mealtime. "This one-and-done method of lowering cholesterol without drugs makes the process effortless for adults and children."
For additional information on how to lower cholesterol levels without drugs, to request the free downloadable report How to Lower Cholesterol Naturally So You Can Live the Long, Happy Life You Deserve, or to purchase Cardiol, please visit http://www.cardiol.net.
About Solana Health
Solana Health is a California-based wellness company committed to providing the highest quality nutritional supplements at the best possible prices. Solana Health supplements are registered with the FDA and manufactured under Good Manufacturing Processes. Their products are considered pharmaceutical-grade and every batch of supplement ingredients is third party tested to guarantee purity and potency. Solana Health distributes Cardiol, a one-dose-per-day supplement that combines nine potent natural ingredients that are proven to help lower LDL and raise HDL cholesterol levels. For more information, to request Solana Health's free downloadable report How to Lower Cholesterol Naturally So You Can Live the Long, Happy Life You Deserve, or to order Cardiol, please visit http://www.cardiol.net.
Contact:
David McMahon
Solana Health
1-888-809-6424
http://www.cardiol.net
###