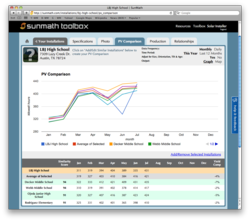 PV Comparison showed me my solar installation was underperforming by 30%. A quick review by the installer showed they accidentally installed the wrong size inverter - a costly mistake I couldn't have known about without your service. Thanks!
Austin, TX (PRWEB) August 24, 2011
SunMath ( SunMath.com), a leading developer of innovative, web-based tools for the solar industry has recently launched its newest software tool, PV Comparison. This free tool uses crowd-sourced data to help solar installation owners diagnose solar system inefficiencies.
This free tool allows solar installation owners to determine if their installation is performing optimally by comparing the electricity production of their system to other nearby systems. In order to make the comparisons apples to apples, SunMath uses proprietary algorithms to adjust for differences in system specifications, including system size, orientation, tilt and age.
Currently, homeowners and businesses interested in optimizing their solar installations either have to (1) pay for a solar professional to do an electrical diagnostic test, or (2) compare their electric production to long-term weather datasets. Paying a solar professional to come out regularly is costly and comparing real-time production to historically-derived production can result in misleading results due to up to 50% variations in weather patterns. SunMath's tool is completely free, real-time, and uses comparable systems as close as a mile away, meaning variations in weather do not affect the validity of results.
Increased Accountability
SunMath believes the PV Comparison tool introduces additional accountability for solar installations engaged in the solar installation process. This accountability should lead to higher quality installations and quicker diagnosis of system issues, even if those issues result in only diminished power production.
About SunMath
SunMath is a leading developer of innovative, web-based tools for the solar community. The company responds to industry feedback to build tools for consumers interested in going solar as well as for solar professionals who install and provided materials for solar. By focusing on building software that is easy to use, SunMath converts data into actionable information, resulting in smarter investment and business decisions.
The company's other tools include:
Solar Calculator - an advanced solar calculator for proposed installations in the United States. What sets SunMath's solar calculator apart is the fact that SunMath never takes finder's fees. This allows us to stay 100% unbiased.
Installation Tracker - a solar installation portfolio tracking tool that allows solar installers to monitor all of their solar installation in one place, regardless of which monitoring system is installed.
Solar Directory - a free, integrated directory that allows solar installers to showcase their solar installations to consumers who want to find solar installers anywhere in the country.
Solar Blog - A one-stop place to find the newest news in solar and educational editorials to help solar consumers and solar installers.
###