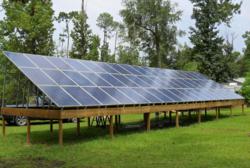 NationWize Solar provides comprehensive product and service packages to customize a solar installation for your home, business, or institution, no matter the size, complexity, or location
Benicia, CA (PRWEB) September 27, 2011
NationWize Solar now in the Bay Area is a commercial and residential turn-key solar energy installer and system developer. The company was founded in 2006 in New Orleans and has now expanded its operations into California, setting up shop at 242 First Street in Benicia. The office is located at the end of First Street, situated next to the waters of the bay and adjacent to the many downtown stores, boutiques and restaurants.
NationWize provides a free evaluation and consultation to communicate real life expectations to the customer regarding their potential solar energy project. They design and engineer the entire system to ensure maximum efficiency and optimal savings to keep the go green campaign alive. They also provide inclusive financing and rebate paperwork support to customize a deal that makes sense for the consumer, while handling all rebate and tax credit paperwork submittals.
In addition to these services, NationWize Solar takes care of the permitting and installation process. They pay attention to the design and engineering of the system to make this process run as smooth as possible while keeping every project on track and on budget. They also offer maintenance and monitoring throughout the life of the solar energy system, providing routine maintenance combined with online, real-time monitoring of energy usage.
"NationWize Solar provides comprehensive product and service packages to customize a solar installation for your home, business, or institution, no matter the size, complexity, or location. This includes Photovoltaic Systems and Solar Hot Water Systems," said Marvin Wilcher of NationWize Solar.
NationWize Solar has recently added some personnel to their existing team in California with the goal of ramping up for the launch of their West Coast operations. These recent additions include an additional Contract Manager, Emilyn Russo, and a Director of Business Development, Will Stockton.
NationWize encourages homeowners, businesses, and institutions to visit their website, http://www.natwize.com, call the California office at (707) 556-2399, or visit their location at 242 First Street in Benicia to determine expectations and discuss a possible free evaluation and consultation.
About NationWize Solar
NationWize Solar is a national solar installation and system development company that has recently arrived in the Bay Area. They are ready to design and install the simplest two kilo watt system for homes to multi megawatt systems for medium and large scale institutions. They specialize in solar commercial work and solar residential jobs.
###