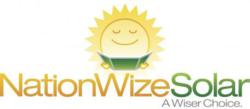 We are also now offering 50-percent discounts (with every purchase of a solar electric system) on our online energy management system, the eMonitor, which comes with an interactive 21-inch touch screen dashboard
Benicia, CA (PRWEB) January 27, 2012
Bay Area solar energy company, NationWize Solar, the leading, local full-service developer, is excited to announce the launch of its new and improved website, http://www.natwize.com, which allows visitors to request a quote or schedule a free consultation from almost any page. The improved website also features a blog that re-posts many important industry-related articles, as well as original material from the NationWize staff. Website visitors may also watch an introduction video or follow links to various NationWize Solar social media outlets.
"We are also now offering 50-percent discounts (with every purchase of a solar electric system) on our online energy management system, the eMonitor, which comes with an interactive 21-inch touch screen dashboard," William Stockton of NationWize Solar said.
The eMonitor enables homeowners to monitor and manage all uses and sources of energy in their homes from a single interface. NationWize's eMonitor also allows property owners to take control of their energy usage on a real-time basis. Unlike most PV monitoring systems, the eMonitor is designed to help consumers better understand their overall energy usage and find more ways to save money from the outset.
NationWize Solar, a Bay Area solar installation company is honored to provide a fundraising program for local churches, places of worship and non-profit organizations. For every solar electric system a member of the organization purchases for their home, NationWize will donate $500 to the organization. Therefore, 50 solar electric systems will raise $25,000 for an organization. NationWize also plans to install solar electric systems for an organization's buildings, saving them over a million dollars throughout the life span of the system and eliminating millions of pounds of greenhouse gas emissions.
Additionally, NationWize features a referral program: "Refer anyone to us who purchases a solar electric system, and we will give you $500 cash!" Stockton said.
NationWize also helps customers take advantage of government rebates and tax credits with its new $99 per month "First Year Payment Plan Program." Basically, NationWize will carry the 30-percent Federal Government Tax Credit for anyone until the end of the year, while guaranteeing monthly payments of $99 for the solar electricity.
Instead of anticipating seasonally high utility bills, NationWize Solar offers an eco-friendly solution that proactively reduces future bills, while saving the environment. In most cases, residential clients start saving money immediately and typically freeze their cost of electricity for the next 30 to 40 years.
For more information about any of NationWize Solar's products or services, call 707-556-2399, view the company on the web at http://www.natwize.com or visit 242 First St. in Benicia.
About NationWize Solar
NationWize Solar is a national solar installation and system development company that has recently arrived in the Bay Area. It is ready to help anyone go green by designing and installing the simplest two-kilowatt systems in homes, multi megawatt systems in medium- and large-scale institutions, and everything in between. NationWize specializes in solar commercial work, solar residential jobs and solar hot water installations. NationWize Solar also provides professional design advice to ensure each solar energy system fits clients' needs.
###