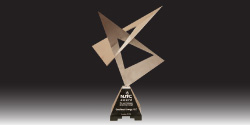 Somerset, NJ (PRWEB) November 19, 2012
New Jersey Technology Council, the region's premier trade organization dedicated to supporting businesses in the technology sector, named GeoPeak Energy the 2012 Private Company of the Year. GeoPeak Energy is the first solar company to receive this Super Award and was honored for its excellence in market leadership, unique product and service offering, and strong financial performance at the organization's annual gala event held on November 15.
"GeoPeak Energy is honored to accept this prestigious award. This achievement has been made possible by the dedicated support of our employees, customers, and business partners globally," said Ed Pliner, Chief Financial Officer of GeoPeak Energy.
The New Jersey Technology Council's Annual Gala event celebrates the "Best in Technology" companies and recognizes the achievements of entrepreneurs and business leaders. The Gala has often been referred to as the "Academy Awards" for the best and brightest technology companies.
Becton, Dickinson and Company has been named the 2012 Public Company of the Year. Past winners of the Private Company of the Year award include Prudential Insurance Company, Vonage, Telcordia Technologies, and GAIN Capital Group. Past winners of NJTC awards include PSE&G, L3 Communications, Novartis Pharmaceuticals, PNC Bank, Verizon, Merck, Dow Jones and Company, Johnson & Johnson, Pfizer, Pepco Energy, Virgin Mobile, Advanced Health Media, and Cognizant.
GeoPeak Energy is a global renewable energy provider for businesses that focus on sustainability as part of their operating philosophy. GeoPeak Energy's clients include companies such as L'Oreal, Firmenich and Novartis Pharmaceuticals. GeoPeak Energy's success is attributed, in part, to their ability to develop and finance large scale renewable energy projects for multinational companies and utilities. GeoPeak had previously received industry recognition for its achievements when it was awarded the 2011 top commercial and residential solar awards.
About NJTC
The New Jersey Technology Council provides business support, networking opportunities, information, advocacy and recognition of technology companies and their leaders. Founded in 1996, NJTC's member companies work together to support their own enterprises while advancing New Jersey's status as a leading technology center in the United States. http://www.njtc.org
About GeoPeak Energy
GeoPeak Energy, headquartered in Somerset NJ, is a global turnkey renewable energy solutions company that designs, deploys, owns and operates renewable energy systems. Through innovative technologies and exceptional customer service they deliver high quality solutions to enable their customers to reach their cost reduction and sustainability goals. They offerings include project feasibility studies, development, engineering, financing and ownership, installation and delivery, monitoring and maintenance. GeoPeak Energy also specializes in seamless and integrated technology platforms that allow its customers to track and report their carbon reduction and sustainability initiatives globally. http://www.geopeakenergy.com