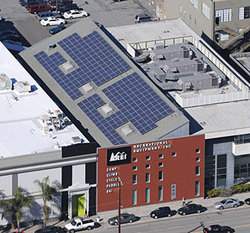 Blue Oak Energy's depth of experience and expert customer service were integral in choosing them to install the solar panel systems for our stores in California
San Francisco, CA (PRWEB) November 10, 2008
The new solar array atop Recreational Equipment, Inc.'s (REI) store in downtown San Francisco--visible to commuters on Highway 101--marks the completion of five California arrays through a partnership between the national retail co-op and solar engineering firm Blue Oak Energy (BOE). A celebration for members and the community will take place at the REI store in San Francisco at 840 Brannan Street from 5 to 7 p.m. on November 13.
In California, REI locations in Arcadia, Santa Rosa, San Carlos and San Diego are already generating 20 to 30 percent of their energy with photovoltaic (PV) installations designed and installed by BOE. REI's PV systems in Sacramento and Folsom will be producing energy by the end of the year.
During REI's planning of its solar power installations in 2007, Blue Oak Energy was selected as a consultant to compare the feasibility of PV installations for REI's retail stores across the nation. For facility managers with multiple locations and properties--whether commercial, municipal, or institutional--a feasibility study is often the starting point for a solar power initiative. In addition to the work with REI, Blue Oak Energy has provided solar electric system consulting and engineering services for several municipalities and campuses, including full permitted plans for the 1.9 MW solar electric power system at Google's Mountain View campus.
Founded in 2003, Blue Oak Energy started business with a photovoltaic system design and engineering emphasis and is now expanding to provide turnkey design / build services. The work with REI represents the first time that BOE has provided full solar power system integration, from feasibility through installation. "Blue Oak Energy's depth of experience and expert customer service were integral in choosing them to install the solar panel systems for our stores in California," said Sharon Im-Lee, REI's energy and utilities project manager. "They have a proven ability to build strong client relationships and dedication to meeting tight construction deadlines, both of which have been important in helping us meet the long term energy goals we've set for ourselves."
With the REI project nearly complete, Blue Oak Energy is lining up additional clients for 2009 to provide integrated solar electric services from concept to completion.
"In our years of experience working on PV system design with many of the larger system integrators, we have seen a wide cross section of solar projects across the United States," says Danny Lee, Director of Engineering for Blue Oak Energy. "We apply this experience to help clients avoid common design and installation pitfalls, and to ensure reliable long term photovoltaic system performance."
About Blue Oak Energy
Named for California's hardy native blue oak trees, which thrive on sunlight, Blue Oak Energy is a full service commercial scale solar energy system provider based in Davis, California. For more information, please visit Blue Oak Energy's website.
About REI
REI is a national outdoor retail co-op dedicated to inspiring, educating and outfitting its members and the community for a lifetime of outdoor adventure and stewardship. Founded in 1938 by a group of Pacific Northwest mountaineers seeking quality equipment, REI is committed to promoting environmental stewardship and increasing access to outdoor recreation through volunteerism, gear donations and financial contributions.