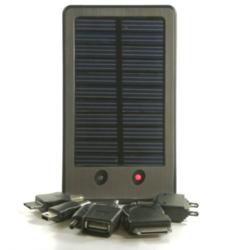 I love to go camping and have had a few chargers that claimed to be solar powered that were terrible. This is the best one I have ever owned. It charges quickly, it fits into my bag and it has been invaluable.
(PRWEB UK) 28 June 2013
Paramountzone.com are pleased to announce the launch of their new product, the Solar Boost, portable phone charger that draws its power from the sun. With the Solar Boost Phone Charger it is possible to have power when required – just plug a phone into it and in no time you are ready to go with a fully charged phone.
The Solar Phone Charger is a handy device that is smaller than a handset but is packed with power. It features a 2000mAh lithium battery that is rechargeable and can be charged via a USB – or by the sun, thanks to the photovoltaic cell. The charger comes supplied with 7 adaptors which gives it 99.9% compatibility with mobile and smart phones, and it can be also used to charge PSPs and Nintendo DS devices too.
Once the Solar Phone Charger has been charged it will keep the power for as long as 6 months, so take it wherever for a power boost. If it is not charged and needs power just let the solar panel do the hard work. Put it in the sun and it will charge up and give extra battery power for a mobile, iPad or other electronic device.
The Solar Phone Charger from leading gift and gadget store, Paramountzone Ltd, is perfect for anyone who owns a mobile phone or other device that eats power. It can be taken anywhere as it is small and lightweight and it is ideal for camping trips. It will charge a phone almost as quickly as plugging it into the mains, and as the Solar Phone Charger can be recharged using the sun it is eco-friendly too!