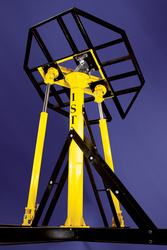 To receive this nomination recognizing the genius of the solar tracking technology we have developed is extremely gratifying
Roseville, Calif. (PRWEB) May 27, 2010
Inspired Solar Technologies, Inc. (IST), a leading developer of tracking systems for the solar power industry, reported today that it is one of ten nominees for the Intersolar Award 2010, designating this year's most innovative and groundbreaking company in the area of photovoltaics. Intersolar Europe will announce the winner of the award on June 9, 2010 in Munich, Germany. Intersolar Europe is the world's largest exhibition for solar technology.
"To receive this nomination recognizing the genius of the solar tracking technology we have developed is extremely gratifying", said James E. Green, Chief Executive Officer of IST. "Validation of this type is extremely important to an emerging company like IST. We believe the solar trackers we have designed will play an important role in making it possible for the solar power industry to reach "grid parity", the point at which solar energy costs meet or beat legacy energy generation technologies.
IST's innovative new ARRAYBOTTM solar tracker combines proven hydraulic actuators with patent pending feed-forward motion control systems to produce tracking solutions designed to deliver an unmatched combination of strength, reliability, durability, accuracy, and cost-effectiveness. Solar trackers optimize the output of solar panels by keeping them on a precise axis with the sun throughout the day. The ARRAYBOT™ is an ideal solution for utility-scale applications where decades of reliability, durability, and ease of maintenance are essential.
Intersolar also plans to present the award winners and nominees in the AWARD Hall of Fame at Intersolar North America, which runs from June 13-15, 2010 at the Mascone Center, in San Francisco, California.
About Inspired Solar Technologies
Inspired Solar Technologies™ is the developer and manufacturer of the ARRAYBOT™ brand of innovative solar trackers. The ARRAYBOT™ enables silicon-based photovoltaic modules (PV), concentrating photoVoltaic (CPV) modules, heliostats for concentrating solar thermal power (CSP) systems, and sterling engine systems to accurately track the sun throughout the day for the purpose of maximizing the amount of electricity these technologies can produce at the lowest cost possible. IST is dedicated to enabling solar energy technology to become a leading alternative energy resource. Visit Inspired Solar Technologies to learn more.
Media Contact:
IST: Ted Pierce
916.772.0151
###