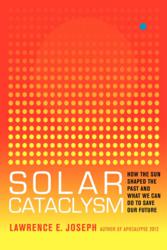 The book features the most comprehensive collection of past life regressions ever compiled and illustrates the transformative nature of its therapeutic work.
San Francisco, CA (PRWEB) September 27, 2012
According to Lawrence Joseph, science journalist and bestselling author of Apocalypse 2012, we've missed a key factor that has influenced history from the beginning of time. In his new book, Solar Cataclysm: How the Sun Shaped the Past and What We Can Do to Save Our Future (HarperOne; October 2012; hardcover; $25.99) Joseph investigates how the sun's behavior shapes our destiny in profoundly important ways … and what could happen next.
According to Joseph, fluctuations in the Sun's behavior provoke shifts not only in the climate, but also disrupt our personal lives in ways most scientists and laypeople never imagined. To wit, spikes in solar output caused Skylab to fall to Earth and have been correlated to drops in the stock market. Connecting current research in solar physics to biology, politics and culture, Joseph also shows:

How geomagnetic storms caused by energetic impact from the sun have a profound effect on people's moods
How the likelihood of getting skin cancer may depend on what point in the sun's eleven year solar cycle sunbathing occurs
How sunlight is the best remedy for jaundice, turberculosis, and psorasis
That sunspot activity may be the most likely predictor of global warming
That evolution could have never achieved its current point if not for the Sun's fluctuations
Moreover, an eleven year cycle of solar activity is predicted to climax in late 2012 and early 2013. This could precipitate an electromagnetic pulse that would destroy electronic equipment, cause great portions of our planet to go off the grid, affect nuclear power plants, and bring life as we know to a screeching halt.
Solar flares, Venus crossing the sun's path, and an annular eclipse are just the beginning, says Joseph. It is time for human beings to stop taking the sun for granted by assuming it will shine with unwavering intensity until it burns out billions of years from now, he warns.
With an entertaining and engaging style, Joseph forces us to rethink our understanding of the sun as simply an immense radiator running on automatic. Rather, this 4.57 billion year old star is complex and dynamic partner, and could be the cause of major disasters if we don't heed its lessons.
ABOUT THE AUTHOR
Lawrence E. Joseph has authored a number of bestselling books, on a wide variety of topics including most recently, Apocalypse 2012: An Investigation into Civilization's End, which has sold more than 200,000 copies worldwide. Joseph has written on international science, nature, politics and business for publications including The New York Times (Magazine, Op-Ed), Discover, and Salon.com. Currently he blogs for the Huffington Post. He has given more than 500 film, television, radio and print interviews on the subject of solar EMP and other Sun-Earth phenomena. His websites, http://www.apocalypse2012.com and http://www.lawrenceejoseph.com, have recorded more than one million unique visitors and 25 million hits. His viral videos have amassed more than 4 million plays on YouTube, Myspace, and AOL Video.
SOLAR CATACLYSM
How the Sun Shaped the Past and What We Can Do to Save Our Future
By Lawrence Joseph
HarperOne, an imprint of HarperCollinsPublishers
October 2012 | Hardcover |$25.99 | ISBN: 9780062061928