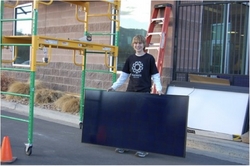 It's better for the environment, it's more energy efficient, it's a clean power, and can bring energy savings every year.
Boulder, CO (PRWEB) May 21, 2009
The Humane Society of Boulder Valley celebrates its new solar electric system on May 21, 2009 at 4pm at 2323 55th Street in Boulder. The 6.3 kW solar awning was made possible through a collaborative effort of Boulder youth volunteer Dustin Michels, the Center for ReSource Conservation (CRC), and Namasté Solar.
At 12 Years Old, Dustin Michels Initiates the Project
When Dustin was looking for a community service project for his bar mitzvah, the choice was clear. He wanted to share his newfound passion for solar energy and the environment with others - and wanted to do something that would keep on giving throughout the years. According to Dustin's father Dave Michels, Dustin has always had a strong concern for the environment and was "very intrigued" by solar energy.
Dustin chose the Humane Society of Boulder Valley because he likes animals and supports the organization's efforts. He made an initial business presentation to Humane Society CEO Lisa Pedersen about the benefits of solar, and learned the importance of ROI - specifically how the initial investment in solar can pay off for years to come. He also explained how going solar was important. "It's better for the environment, it's more energy efficient, it's a clean power, and can bring energy savings every year."
"It was impressive," said Lisa. "It was his first presentation, and it was a full PowerPoint. He explained how solar was good for the Humane Society and good for the earth."
Dustin Organizes Community Support
Dustin led the way and overcame many challenges to garner support for the project. Dustin was aware of Namasté Solar's unique grant program and approached them to learn more about how to make the solar project happen. Namasté Solar and the CRC have been community strategic partners for several years. When the CRC was given an anonymous donation for Boulder solar projects, the CRC's Energy Division Director Debbie Fox contacted Heather Leanne Nangle at Namasté Solar to inquire about projects that might be a good match.
"I thought of Dustin and the Humane Society project right away," said Heather Leanne. "Connecting the final pieces of the funding puzzle for the Humane Society felt so rewarding!" Soon after, a meeting was arranged with the Humane Society, Namasté Solar, the CRC, and Dustin to let Lisa know that their solar array would be covered 100% by collaborative donations.
Xcel Energy's Solar*Rewards program offered solar rebates to cover 50%, while the CRC and Namasté Solar donated the remaining portions to cover the full system cost for the Humane Society.
"I really liked Namasté Solar. They were nice, friendly, and helpful, and they did a good job with solar on my family's home," said Dustin. The Michels family asked a lot of questions about solar, and were impressed by Namasté Solar's approach and quality design.
"It was quite an honor to help Dustin accomplish his goal. The first time I met him, he shared his enthusiasm for helping the environment and helping the Humane Society save money - so that more could go to help the animals." said Debbie. "The CRC supports projects of this nature thanks to a donation from a private family foundation. When I shared the story with the family, we both immediately liked the project - Dustin's story, the educational value to hundreds of Humane Society customers, and the ability to partner with our local organizations and companies."
"I was so impressed with Dustin," said Lisa. "He was respectful of our needs. I was amazed and inspired by his commitment. He has a passion for animals and the environment. In so many ways, they go hand in hand. He's inspired our staff and donors in how to benefit the Humane Society and the animals we serve."
According to Dustin, "It was exciting - we had a sheet with costs showing where all of the money was coming from. Usually, the section 'what you have to pay' is a bigger number, but for the Humane Society, it was $0. We had found ways to fully pay for their system, and that meant there was more money for the animals."
Solar Benefits and Education at Humane Society
The Humane Society is anticipating the benefits of solar with expected annual savings of $800 and the removal of 18,000 lbs of CO2 from the atmosphere. "We are so excited to have the public see our new system - and our savings - and encourage them to see solar as a viable alternative. This was a win-win for all three organizations involved and for the community as a whole." said Lisa. Dustin worked closely with Namasté Solar to ensure the solar panels were visible to the public via an awning design.
"In coordination with the Humane Society, we will provide educational outreach programming to promote the understanding of solar energy in our community," said Lauren Coyne, Namasté Solar Co-Owner and Education & Outreach Manager. "While the Humane Society's primary mission is to promote healthy relationships between people and their pets, their new solar PV system provides them with a unique opportunity to promote healthy relationships between people and the planet as well."
ABOUT COMMUNITY PARTNERS
Humane Society of Boulder Valley
Humane Society of Boulder Valley's mission is to protect and enhance the lives of companion animals by promoting healthy relationships between pets and people. Over a century ago, the Humane Society was founded to protect those who did not have a voice to protect themselves. This mission holds true today as the organization counters animal neglect and cruelty and partners with other animal welfare organizations to save the lives of animals. They offer refuge to over 8,000 animals each year. BoulderHumane.org
Namasté Solar
Namasté Solar works to propagate the responsible use of solar energy, pioneer conscientious business practices, and create holistic wealth for the community. As the leading solar company in Colorado with more in-state installations than any other company, Namasté Solar has installed more than 700 PV systems totaling over 4 MW since 2005. Its innovative business model includes employee ownership, democratic decision-making, community collaboration, a unique solar grant program, zero-waste initiatives, educational outreach, and holistic profit measurement. NamasteSolar.com
The Center for ReSource Conservation
The CRC's mission is to empower the community to conserve natural resources. They implement programs through three divisions - Waste (Deconstruction/Re-Use), Energy, and Water. The organization has developed extensive expertise in the areas of green building, renewable energy, energy efficiency, waste reduction, and water conservation. ConservationCenter.org
###