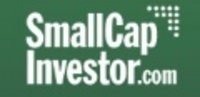 still quite positive on the solar-power industry because of firm product pricing and strong demand.
WASHINGTON (PRWEB) January 29, 2008
SmallCapInvestor.com features detailed analysis on Canadian Solar and EMCORE Corp., two solar energy companies that are outshining others in what appears to be otherwise a choppy market. To find out why these small cap stocks have boosted investor portfolios, read the Solar Energy Stocks Sector Watch analysis.
Says SmallCapInvestor.com Editor-in-Chief Bob Bogda, "With the price of oil continually in flux, and alternative and renewable energy sources becoming much more in demand and affordable, these two solar energy companies are poised for continual growth and have already shown their capability to rapidly increase in both business and revenue."
Solar stocks are a brilliant alternative to hydrocarbon sources as they have immense growth on the horizon in an environmentally conscious world. Canadian Solar designs, develops, and manufactures solar modules for converting sunlight into electricity and is expanding its products and services parts to other countries as well. SmallCapInvestor.com's leading investment guru Ian Wyatt said, "This solar energy company experienced a three-fold increase in 2007, earning $175.3 million. I predict that Canadian Solar will prove to be continually profitable for 2008 and beyond, not only because of its needed products, but because of the global demand that will keep fueling its business strength."
Investors looking for ways to get in on the solar energy boom can get the details on Canadian Solar at http://www.smallcapinvestor.com/articles/investing_strategies/sector_w atch/01/23/2008/sector_watch_solar_energy_stocks/&?r=pr_013008. (Due to its length, this URL may need to be copied/pasted into your Internet browser's address field. Remove the extra space if one exists.)
Answering any investor's concerns about solar stock shares prices as of recent, Goldman Sachs analyst Michael Molnar has been quoted saying that he is, "still quite positive on the solar-power industry because of firm product pricing and strong demand." He reiterated the view that recession fears and not weaker industry fundamentals have weighed on solar stocks. He said solar economics are not directly affected by oil prices, but more so by power prices.
Molnar is not the only one who has a positive outlook on these solar energy companies. Wyatt likes the solar stock, EMCORE Corp., due to the elite solar products it provides for satellite and terrestrial solar power markets and its rapid return in fiscal year of 2007 which brought in $170.1 million and rose 18% from 2006.
More information and further details can be found on Canadian Solar and EMCORE Corp. in the Solar Energy Stocks Sector Watch article on the Small Cap Investor website, http://www.smallcapinvestor.com
About SmallCapInvestor.com
SmallCapInvestor.com is a destination website for individual investors who seek independent information on small cap and micro cap stocks. While major financial news and websites occasionally provide limited reporting on small cap stocks, their focus has always been on companies that are most popular with investors and the media, and not necessarily in the interest of individual investors looking for the market-beating opportunities presented by small cap stocks. SmallCapInvestor.com is the leading website dedicated to individual investors seeking information on small and micro capitalization stocks.
To view the SmallCapInvestor.com website, click http://www.smallcapinvestor.com/?r=pr_013008