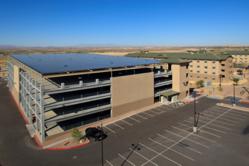 Our pairing with Blue Oak Energy on the BEQ 9 Project was the perfect formula for completing the construction of the project as it was originally designed and on time," said Baker Electric Solar President, Ted Baker
Escondido, CA (PRWEB) November 15, 2011
Baker Electric Solar, a full-service solar integrator specializing in green technology design / build for commercial and residential solar installations, partnered with Blue Oak Energy, a full-service photovoltaic systems engineering firm, to bring solar energy to the new Bachelor Enlisted Quarters (BEQs) complex at the U. S. Marine Corps Air Ground Combat Center (MCAGCC) in Twentynine Palms, California.
Awarded by NAVFAC Southwest, developed by the Straub Martin-Harris Joint Venture and designed by Project Architect PGAL, LLC, Las Vegas, Nevada, the MCAGCC BEQ 9 project included three 4-story BEQs (576 two-person rooms), a landmark projection tower, 500-seat outdoor amphitheater and 706-space 4-story parking garage. Baker Electric Inc. and Baker Electric Solar served as subcontractors for all of the electrical and solar construction. Blue Oak Energy completed and coordinated the design engineering for the solar integration. The new complex is registered and targeted for LEED Platinum.
The MCAGCC solar project consisted of four separate solar array structures, featuring 4,680 SunPower® E19/318 Solar Panels which generate on-site solar electric power. The photovoltaic installation reduces energy costs for the military base while providing premium shading for two parking areas, the amphitheater and recreational park.
Baker Electric Solar (BES) and Blue Oak Energy (BOE) partnered in the design / build of the 1.5 megawatt (MW) system. BES specified, procured and installed all of the wiring, solar equipment and controls. The construction firm coordinated multiple trades and added a second crew shift to ensure the installation was completed on time, just over two months from start to finish for the above ground installation.
Blue Oak Energy's engineered plans included all of the details required to obtain on-time permits and efficiently manage the construction process. To meet naval site-specific requirements, BOE designed custom hardware for the mounting of the solar panels. Employing 3-D modeling, BOE adapted the various solar array configurations throughout the site to preserve the architectural design.
"Blue Oak Energy enjoyed partnering with Baker Electric on this very unique NAVFAC project," said Tobin Booth, president and CEO of Blue Oak Energy. "The success of this job demonstrates the efficiency and creativity that results from a close collaboration between engineering and construction."
"Our pairing with Blue Oak Energy on the BEQ 9 Project was the perfect formula for completing the construction of the project as it was originally designed and on time," said Baker Electric Solar President, Ted Baker. "Our mutual commitment to renewable energy solutions made our collaboration all the easier."
About Baker Electric Inc. / Baker Electric Solar
Founded in 1938, Baker Electric, Inc. (BEI) provides comprehensive pre-construction services and the planning, coordination, design / build, in-house engineering, and project management of any size project from initial design to follow-up maintenance. BEI serves as both a prime and subcontractor. NB Baker Electric, Inc. began installing solar electric systems in 2003 and later launched dba Baker Electric Solar. Baker Electric Solar designs, builds and installs photovoltaic solar power systems for new and existing homes and commercial facilities. Baker Electric Solar is a SunPower Elite Dealer. For more information, visit http://www.bakerelectricsolar.com.
About Blue Oak Energy
Blue Oak Energy (BOE) is a full service provider of solar photovoltaic systems with a core focus on engineering and construction. With more than 100 years of combined experience in the solar industry, Blue Oak's services include project planning and feasibility, design and engineering, turn-key installation, and system maintenance. Blue Oak Energy has provided a range of services for projects with a cumulative total of over 350MW of projects. The company delivers solar electric projects across commercial, industrial, government, and utility sites. Named for California's hardy native blue oak trees, Blue Oak Energy delivers quality work with a central mission of continuously installing solar electric systems to diversify our energy mix. For more information, visit http://www.blueoakenergy.com.
# # #