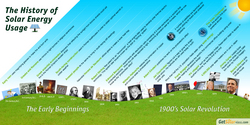 We found that while there are many solutions available, it is no easy task navigating the many online sources. We want to facilitate the online learning and purchasing processes, making it easier for environmentally aware people to become energy efficient
Orlando, FL (PRWEB) November 24, 2010
GetSolar4Less.com provides consumers looking to invest in solar power with an extremely thorough database of over 15,000 solar panel installers, designer and consultants in 400+ major cities around the U.S. to get the job done. GetSolar4Less.com also provides consumers with other useful solar-related resources such as an informative and up-to-date blog and solar-related articles - all promoting a cheaper and cleaner way of living.
The most recent GetSolar4Less.com blog post illustrates the historical journey solar power has taken from the stone ages up to Obama's most recent addition of solar panels to the White House. This journey through the evolution of solar technology reminds us that the more information that comes to light about solar power, the more we will see renewable energy continue to grow and become a reality for property owners across the nation.
Solar energy is already gaining popularity due to it being an abundant and free resource, allowing property owners to be energy independent and enjoy long-term savings. With better-than-ever rebates and incentives on a local, state, and federal level, realizing the savings is well within consumers' grasp. GetSolar4Less.com aims to push forward the trend towards solar energy by keeping consumers educated on solar power.
Founder Roy Gavra of GetSolar4Less.com commented, "We found that while there are many solutions available, it is no easy task navigating the many online sources. We want to facilitate the online learning and purchasing processes, making it easier for environmentally aware people to become energy efficient." The website is also designed to grow with the ever-expanding solar industry. Roy goes on to explain, "Solar energy installations not only help the environment due to it being a cleaner energy, but also reward those making the switch financially, through rebates and incentives offered through state and local governments. As the solar industry continues to grow, GetSolar4Less.com will strive to be the go-to resource for property owners to realize fantastic savings on solar panels and installation."
Getsolar4less requires little information for those looking to get started with solar power, and provides easy access to an ever-expanding directory of solar professionals… whether looking to purchase a system or hire a local installer, designer or contractor. With having immediate, local access to solar professionals, consumers are able to enjoy the savings available through local, state and federal rebates and incentives and soon realize a sensible return on investment.
Some information the site provides:

How solar power works
Solar glossary
Solar air and water heating guide
Solar panel mechanics and installation
Solar power companies
Solar rebates and incentives
About GetSolar4Less.com
GetSolar4Less offers an easy way for homeowners and businesses to connect to solar power professionals. By filling out a simple form with the visitor's contact information, building type, and project type, users can access local solar professionals for price quotes and service. GetSolar4Less also provides visitors with up-to-date education on solar power and the benefits of making the switch to solar energy.
Contact: Roy Gavra
GetSolar4Less.com
sales(at)getsolar4less(dot)com
407-285-0704
###