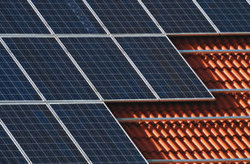 With our shared model, we can help many more customers benefit from the highest levels of FiT provided installations are completed in the next 18 months.
(Vocus) October 16, 2010
Avonline are introducing a ground breaking offer where the customer and Avonline share the upfront investment and the Feed in Tariff of the Solar Photovoltaic System. Customers can now buy and own a system up to 4kW from just £4,999. Avonline will supply and install the system using high quality components and guarantee the system for 25 years. The customer will be able to use the electricity generated completely free of charge saving money on their fuel bills and Avonline will collect the FiT and share the proceeds each year with the customer.
Up until now, the choice for customers was either to invest £10,000 to £15,000 on a typical system with a payback period of between 10 and 12 years as a long-term investment decision or to "rent their roof" as the free solar schemes have been labelled. These schemes offer only a few pence per day of benefit to the home owner whilst the installer typically benefits from over £1,500 of FiT tariff each year.
Mark Wynn, Avonline's Managing Director, said, "We're excited to bring a new Avonline service to the market providing consumers, businesses and the public sector with an opportunity to cut their energy costs as well as get paid for providing the energy they produce and reduce their carbon foot print."
He continued, "With our shared model, we can help many more customers benefit from the highest levels of FiT provided installations are completed in the next 18 months."
As an accredited installer, Avonline can offer both domestic and business customers impartial advice on the best Solar PV solutions for their circumstances. Whilst the Consumer Solar PV market has been flooded with companies offering to install a system completely free of charge, the catch is that these companies keep the Government guaranteed Feed in Tariff (or FiT for short). Introduced in April 2010, the latest FiT's are a Government initiative to promote microgeneration – generation of energy on a home by home level. Being index linked and guaranteed for 25 years from install, most customers should achieve a tax free return of over 8% per annum, an investment that the Sunday Times ranked as one of the Top 5 Investments for 2010.
Avonline has been delivering and installing services in homes and businesses across the UK for 30 years. Established in 1981, Avonline's team of around 500 field engineers was recently accredited through the Microgeneration Certification Scheme (MCS) to provide the highest standards of Solar PV installation.
Mark added further, "Having Solar PV panels fitted by a recognised and accredited installation provider like Avonline gives householders the peace of mind that the installation will be completed in a professional way. This year we have seen many new businesses spring up but customers need to consider that they are investing for the next 25 years. At Avonline we can demonstrate our pedigree over the last 25 years and our plans to support our customers over the next 25 years."
About Avonline Plc
Avonline plc is one of the UK's leading Installation and Business Services companies. Alongside the MCS accreditation, Avonline holds ISO 9001, ISO 14001 and OHSAS 18001 plus NICEIC and REA accreditations. Established for 30 years, Avonline is one of the largest businesses the UK specialising in installations and solar PV.
# # #