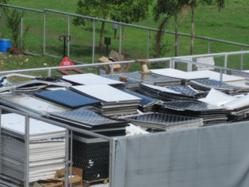 Regardless of the 25 year warranty, the demand for end-of-life solar panel recycling is now.
Phoenix, Arizona (PRWEB) September 13, 2012
With aging solar installations and inclusion of photovoltaic modules in Europe's WEEE Directive, along with the development of solar waste regulation and the growth of large scale installations in the United States, module manufacturers have expressed a need to coordinate recycling efforts between the two continents. This coordination includes collection, handling, and material reclamation activities which ensure end-of-life modules are processed in an environmentally, socially, and financially responsible manner.
"From listening to our current and potential customers many have inquired about having a one-stop international solution to administer their PV recycling needs. In response we have explored various options and chose to begin with coordinating efforts between the North American and European markets." stated Jennifer Woolwich, CEO of pv recycling, llc. "We believe working with CERES will decrease duplicative efforts on behalf of our customers, saving them time and money. Having compatible operations data will also assist the industry as a whole to analyze trends and present empirical evidence of its commitment to a truly sustainable industry. Regardless of the 25 year warranty, the demand for end-of-life solar panel recycling is now."
Nicolas Defrenne, Managing Director of CERES agreed that the co-operation of these two entities complement one another. "The relationship will help both companies better meet the needs of our multinational customers at a time when the PV market is consolidating. By having common administrative methods, collection of data, and report generation, we will streamline processes for our members and reduce the cost for the manufacturers. In addition, we will be able to comprehensively demonstrate compliance with existing and new regulatory requirements."
About CERES:
CERES has created an innovative program for the collection and recycling of used modules and manufacturing scrap. The collection program developed by CERES is of no cost to the end-user. Waste can be deposited in certified collection points and will be recovered by recycling partners. The association was founded in 2011 by professionals from the photovoltaic industry who were dissatisfied with the existing solutions for effective and sustainable waste recovery. CERES includes stakeholders from every stage of the photovoltaic industry, such as producers, farmers, consultants and installers. For more information, please visit: http://www.ceres-recycle.org
About pv recycling, llc:
pv recycling, llc is the United States' first to market recycler of end-of-life solar panel materials. In collaboration with module manufacturers, and others in the solar supply chain, it develops and administers systems to collect and recycle photovoltaic manufacturing scrap and end-of-life modules. Located in Tempe, Arizona it is strategically located to be in close proximity to aging and emerging markets in North America. pv recycling believes in keeping modules out of local community waste streams, and responsibly reintroducing reclaimed materials into manufacturing processes for new products. A truly cradle to cradle approach. For more information on pv recycling, llc please visit:http://www.pvrecycling.com.