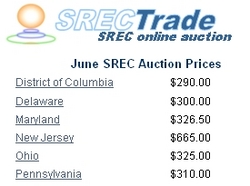 San Francisco, CA (PRWEB) June 7, 2010
SRECTrade.com has successfully completed its June monthly auction for solar renewable energy credits (SRECs). June's auction included sales of New Jersey, Pennsylvania, Maryland, Delaware, Ohio, and Washington DC SRECs with the highest volumes seen over the past two years. SRECs continued to trade high in all the PJM region states due to a shortfall of installed solar generation and the resulting shortage of SRECs.
June 2010 SREC Auction Prices
New Jersey....................$665.00
Maryland.........................$326.50
Ohio.................................$325.00
Pennsylvania.................$310.00
Delaware........................$300.00
District of Columbia......$290.00
SRECTrade has also introduced a live prepaid and forwards exchange for SRECs. The prepaid exchange allows generators to sell from 1 month to 15 years of SREC generation forward for an upfront lump sum payment. The forwards exchange allows generators to lock in prices for up to 15 years, receiving payment each month at the contracted rate when SRECs are generated. Buyers can benefit from a fixed priced SREC stream that is standardized and is fully tradable on the SRECTrade forwards exchange.
SRECTrade.com is the only independent, public monthly auction for SRECs in the U.S. SRECTrade has successfully held 22 monthly auctions over the past two years. This experience and user base allows SRECTrade to provide unmatched liquidity in a transparent marketplace where prices are determined solely by supply and demand. It provides a convenient platform for buyers and sellers of any size to obtain market prices on their SREC transactions. In addition to holding monthly auctions and running a live forwards exchange, SRECTrade also aggregates SRECs through EasyREC, a full SREC management service. This hands off service handles all state registration, tracks generation, automatically places SRECs in the auction as they are generated, and delivers payments to the system owner's account.
# # #