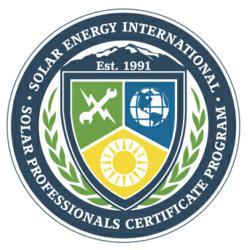 Paonia, CO (PRWEB) December 18, 2012
For over 20 years, Solar Energy International has been the leading solar photovoltaic training provider for technicians currently working in the solar industry and thousands of new students every year that are seeking careers in the renewable energy sector.
Next month, SEI will be offering some of the most advanced training in the solar industry with PV202 Advanced PV System Design and the NEC (Grid-Direct) January 21-25 in Walnut Creek, California at the Quick Mount PV training facility.
PV202 is a required course within the SEI Solar Professionals Certificate Program for those wishing to graduate from SEI.
Over the past few decades SEI has trained many of the leaders and small business owners in the solar industry. Many of the Quick Mount PV team members are alumni of SEI's technical training program and are long time friends and supporters of SEI's non-profit mission of renewable energy education.
In PV202, students will learn how to apply the National Electrical Code (NEC) standards and industry best practices to residential and commercial grid-direct solar electric systems to ensure safe, code-compliant design and installation. This solar training workshop builds upon the core concepts from PV101, expanding them to address larger, more complex grid-direct PV systems.
PV202 focuses significantly on the National Electrical Code, including interconnection calculations, grounding, workspace clearances, and disconnect and overcurrent protection sizing and considerations.
Commercial system equipment specifications including inverters, racking, and commercial voltage service panels are covered; as well as site considerations for roof and ground-mounted arrays, including layout and inter-row shading. PV202 thoroughly addresses array sizing with various inverter configurations, in order to assess design options and optimize performance.
Students will learn to evaluate system performance under various operating conditions, and identify and correct installation errors including ground-faults. This course combines class lectures with individual problem solving exercises covering common design considerations.
SEI has also historically been the leading curriculum and textbook provider in the solar industry and has produced textbooks for over a decade. Check out their newly released Solar Electric Handbook: Photovoltaic Fundamentals and Applications. Visit http://www.solarenergy.org for more information or call the SEI Student Services department for alumni and textbook bulk ordering details: (970) 963-8855.
About Quick Mount PV
With a passion for solar energy and a commitment to doing solar right, Quick Mount PV was founded in 2006 to bring cost-effective, code-compliant, waterproof rooftop mounting systems to the solar industry. As PV installers and general contractors, Quick Mount PV founders Stuart Wentworth and Claudia Wentworth saw too many rooftop mounts that were doomed to failure, posing a threat not only to any given roof and building, but to the burgeoning solar PV industry itself.
Website: http://www.quickmountpv.com
About Solar Energy International
Solar Energy International (SEI) was founded in 1991 as a nonprofit educational organization to help others to use renewable energy resources and sustainable building technologies through education and technical assistance.
Our vision is focused on helping create a more sustainable future for our planet and its inhabitants. Through our work, we see clear opportunities to influence people's thinking and behaviors towards energy efficiency and the use of natural, sustainable methods of energy production and utilization.
Solar Energy International is a 501(c)(3) Equal Opportunity Institution and Employer, and is not affiliated with any dealer, manufacturer, distributor, or any other renewable energy commercial enterprise.
Media contact for SEI is Christopher Turek, Director of Online and Student Services - chris(at)solarenergy(dot)org - 970-963-8855 x115 - http://www.solarenergy.org