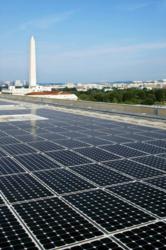 The price of solar energy is dropping everyday
Woodland Hills, CA (PRWEB) January 30, 2013
The US Department of Energy (DOE) announced today that is investing $9 million in research to accelerate solar energy deployment and realize further reductions in solar energy costs as part of the Obama Administration's SunShot Initiative.
The goal of the $9 million research and development investment is to help scientists, project developers, system installers and communities to work together to discover new ways to reduce costs, increase solar cell efficiency, and streamline the installation processes of solar energy systems.
"Through powerful analytical tools developed by our nation's top universities and national labs, we can gain unparalleled insight into solar deployment that will help lower the cost of solar power and create new businesses and jobs," said Energy Secretary Steven Chu. "Projects like these will help accelerate technological and financing innovations—making it easier for American families and businesses to access clean, affordable energy."
According to a DOE report the cost of residential solar systems dropped by 7 percent in 2012, and that's good news for consumers according to Sergio Bruna of Solar Center, Southern California's leading provider of solar energy systems. "The price of solar energy is dropping everyday and the DOE's investment will only make it drop faster." Says Bruna. "There's never been a better time for residential and commercial customers to go solar."
The SunShot Initiative is a collaborative national effort to make solar energy cost-competitive with other forms of energy by the end of the decade. Inspired by President Kennedy's "Moon Shot" program that put the first man on the moon, the SunShot Initiative has created new momentum for the solar industry by highlighting the need for American competitiveness in the clean energy race.
Consumers interested in making the change to solar energy can contact Solar Center at (877) 207-6527.