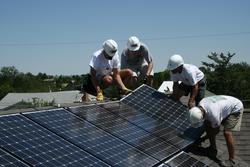 They already possess about 80% of the knowledge and capabilities needed to be successful in solar
Boulder, CO (Vocus) April 3, 2009
There's a light at the end of the job loss tunnel for many of those most adversely impacted by today's dismal unemployment numbers. According to today's U.S. Bureau of Labor statistics, another 663,000 Americans have joined the ranks of the unemployed. Unemployment is now at 8.5%. This past quarter, unemployment rates for construction and extraction occupations soared from 11.4 to 22.3%¹
Contractors, home builders, electricians, welders, roofers, engineers, architects, glazers, building managers and others feeling the pain of this economy's 'construction obstruction' can learn how to successfully realize the promise of the Obama Administration's Clean Energy Economy at the non-profit American Solar Energy Society's (ASES') SOLAR SUCCESS!™ Training Event, May 11-14, 2009, underwritten by the solar experts at Conergy.
The event -- a not-for-profit training event and therefore tax deductible as specified in current tax code -- is co-located at the 38th annual ASES National Solar Conference in Buffalo, NY. Register at http://www.Solar2009.org. Last month, U.S. Labor Secretary Hilda L. Solis announced that the Obama Administration is making more than $3.5 billion to states for education, training and re-employment services.
So where's the opportunity?
In his address to the U.S. Congress on February 24, President Barack Obama committed to investing $15 billion a year to create conditions that will double the amount of renewable energy produced in America in the next three years. The investments create fertile ground for thousands of businesses and entrepreneurs to engage in renewable energy innovations that make solar affordable for businesses, home owners and public agencies, while helping them save billions of dollars on their energy bills.
"Many of those engaged in the construction trades don't realize that their skill sets and companies can be efficiently transitioned into the burgeoning business of solar energy," said Donald Chung, Managing Director of Distribution for Conergy Americas, a full-service wholesale distributor serving a network of over 1,000 solar energy dealers and installers across the U.S. "They already possess about 80% of the knowledge and capabilities needed to be successful in solar," he said. "With a decade of market experience and a 1 Gigawatt global solar energy portfolio, we at Conergy have the expertise, suppliers, logistics infrastructure and financial service network to give those wishing to diversify into solar the additional 20% they need to succeed in our industry." Nearly one in 10 of the solar energy systems designed, distributed or installed in the world have the power of Conergy behind them.
"The SOLAR SUCCESS!™ workshop is designed to provide essential industry insight to those interested in breaking into the business and contributing to the momentum of our new Clean Energy Economy," added Chung. "While the construction industry has been heavily affected by the current economic downturn, the solar industry has been growing at a clip of over 30% per year -- and it is projected to maintain that growth over the next few years. Never has this industry held more promise for those looking to diversify and build their businesses -- or parlay their expertise into rewarding career opportunities," he said.
SOLAR SUCCESS!™ offers a menu of over 30 interactive sessions for entrepreneurs in two, four or six-day tracks (Solar Success! for Start-ups, Solar Success! Fast Track, and Solar Success! All Access) depending on their level of business exposure. Sessions are organized in the following tracks:

System Design and Installation: Industry best practices, technical, code-compliant design & installation practices for optimal system performance, NABCEP-approved training and OSHA requirements for installers and project managers;
Manufacturer Training: Hands-on training from renowned industry manufacturers covering product features and benefits, system performance and new product introduction;
Business & Project Finance Training: Tools and services to accelerate sales and streamline small business operations;
Sales & Marketing Strategy: Identifying and understanding what motivates customers in today's economy, market incentives and financing options, state renewable portfolio standards overview, effective lead generation through marketing and public relations campaigns and positioning your business for rapid success.
Last year, over 500 professionals participated in the event, making it the largest installer training in the industry. After training, participants have access to the entire SOLAR 2009 trade show floor, where they can network and take deeper dives into key subject matter with hundreds of industry leaders, including manufacturers, installers, researchers, scientists, engineers, investors, analysts, educators and public officials. To learn more about SOLAR SUCCESS!™ costs, content and accommodations, please visit http://www.Solar2009.org.
The rays of opportunity solar brings to today's economic climate are clear. The ASES Green Jobs Report asserts that as many as 37 million U.S. jobs can be generated by the renewable energy and energy efficiency industries by 2030. It concludes that renewable energy and energy efficiency have the potential to energize and employ nearly 17% of the future U.S. workforce over the next two decades. Ninety percent of those jobs are anticipated to be in the private sector.
According to ASES Conference Director Becky Campbell-Howe, today's interest in renewable energy is unprecedented. "With enticing federal tax credits, billions of dollars in grants and loans, state-funded cash rebates, renewable energy portfolio standards and a groundswell of consumer support for sustainable solutions that promote energy independence, the economics of renewable energy have never been more compelling," she said. "Solar energy is not just good for the environment, it's a job-creating, business-building, revenue-generating revolution whose time has come."
About ASES:
For more than 50 years the American Solar Energy Society (ASES) has been leading national efforts to promote education, public outreach, and research about solar energy and other sustainable technologies. ASES produces the annual SOLAR 2009 conference, the National Solar Tour, Solar Today magazine, and the ASES Green Jobs Report. Please visit http://www.ases.org for more information.
About CONERGY:
Conergy designs, manufactures, installs and finances solar photovoltaic solutions for major commercial sectors, public agencies, businesses and homeowners through two distinct channels. Conergy's Projects Group focuses on custom solutions for large-scale, energy-intensive enterprises; Conergy's Distribution Group serves a national network of installers, developers and dealers in the grid-tied and off-grid residential realm, while also addressing the needs of small commercial markets. With ten years' market prowess, Conergy has successfully deployed projects totaling over 1 Gigawatt of renewable energy capacity around the world. With operations in 15 countries over 4 continents, Conergy is driving today's clean energy economy via the design, production, installation or financing of close to 1 in 10 of the world's solar energy systems. Learn more at http://www.conergy.us.
Contacts:
Neal Lurie
American Solar Energy Society
(303) 443-3130 x105
nlurie (at) ases.org
Terri Steele
CONERGY
(720) 305-0704
t.steele (at) conergy.us
¹ U.S. Bureau of Labor Statistics, April 2009. Not seasonally adjusted.
###