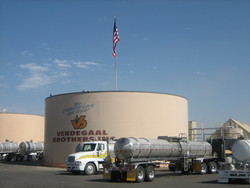 First Solar's thin film solutions are designed to optimize energy output for companies operating in these conditions
Hanford, CA (Vocus) April 16, 2009
Fertilizer formulator, warehousing, and soil and water amendment supplier Verdegaal Brothers, Inc. has joined the growing list of San Joaquin Valley companies working with the global experts at Conergy to optimize their solar energy options with the use of thin film photovoltaics (PV).
Construction begins this month on a 188kW fixed-mount solar energy system that will offset Verdegaal's utility bills by 99% and meet 82% of the company's energy needs. It is expected to save the company an annual $60,000 in utility costs. Interconnection is expected in July.
According to Conergy's West Coast Director of Projects David Vincent, First Solar's thin film solutions are proving increasingly popular in California's sun-drenched Central Valley because of how well they perform in hot, dusty and low or diffused-light conditions.
"The San Joaquin Valley's notorious valley fog, its high levels of airborne particulate matter and the region's disking, plowing, harvesting and trucking operations can create sustained low-visibility conditions in this part of the state," noted Vincent. "First Solar's thin film solutions are designed to optimize energy output for companies operating in these conditions," he said. Because the efficiency of their semiconductor material is less susceptible to cell temperature increases, it generates more electricity under high ambient temperatures. It also converts low and diffused light to electricity more efficiently. Both lab and field results are showing notably higher energy output for First Solar's thin film in these conditions. This is a benefit for Verdegaal not only in meeting its energy needs, but because surplus, peak-time energy produced by the Conergy system is credited back to Verdegaal's utility bill.
Cutting costs for agricultural suppliers indirectly touches businesses and families across the U.S. According to the California Department of Food and Agriculture, California is the #1 state in cash farm receipts(1) and produces about 50% of the nation's fruit, nuts and vegetables. California's agricultural output features more than 400 commodities. Many crops are produced solely in California, and the majority of the state's agricultural production comes from its sun-drenched Central Valley. Verdegaal Brothers, Inc. has been part of the state's agricultural community and supporting the farmers who produce the nation's food and fiber for more than three generations.
"Verdegaal Brothers has been supporting farmers with soil and water amendments that improve crop yields for nearly 35 years, said Russ Verdegaal, President of Verdegaal Brothers, Inc. "We're installing this system to improve our energy source in a way that improves our bottom line -- and the quality of the air, water and land around us," he said. "We've always been about efficiency," Verdegaal added.
This Conergy solar energy solution will reduce carbon emissions by 6,145 tons of CO2 over the estimated 25-year life of the system -- the environmental equivalent of eliminating nearly 20 million road miles from California's freeways.
According to Conergy consulting partner Damon Silva, Verdegaal Brothers is an innovative, award-winning, community-based company that has evolved over time to keep up with the changing needs of the farmers it serves. "Verdegaal Brothers' past innovation includes the introduction of a fleet of trucks to assure prompt delivery of their fertilizer and soil and water amendments. Their recent leadership in energy diversification will bring them nearly $350,000 in incentives, a clean, renewable energy source, a hedge against rising energy costs and a cleaner environment for generations to come," said Silva.
About CONERGY:
Conergy designs, manufactures, installs and finances solar photovoltaic solutions for major commercial sectors, public agencies, businesses and homeowners through two distinct channels. Conergy's Projects Group focuses on custom solutions for large-scale, energy-intensive enterprises; Conergy's Distribution Group serves a national network of installers, developers and dealers in the grid-tied and off-grid residential realm, while also addressing the needs of small commercial markets. With ten years' market prowess, Conergy has successfully deployed projects totaling over 1 Gigawatt of renewable energy capacity around the world. With operations in 15 countries over 4 continents, Conergy is driving today's clean energy economy via the design, production, installation or financing of close to 1 in 10 of the world's solar energy systems. Learn more at http://www.conergy.us.
About Verdegaal Brothers:
Verdegaal Brothers, Inc. is a Hanford, California-based, family-held fertilizer and soil amendment company that has been serving North American agricultural interests since 1975. Verdegaal Brothers warehouses various liquid and dry agricultural fertilizers for fertilizer manufacturers in the United States and Canada and for distribution to fertilizer dealers in California. Verdegaal Brothers also formulate and deliver their own patented urea-sulfuric acid fertilizers to dealers in seven Western states. Verdegaal Brothers pioneered development of a turnkey sulfuric acid injection system for the treatment of high pH and high bicarbonate irrigation water. Verdegaal Brothers owns and operates a fleet of semi and truck and trailer tankers to deliver product to their customers. The company also has a private railroad siding. Information is at http://www.verdegaalbrothers.com.
(1)Source: California Department of Food and Agricultural Web site. 2007 receipt data is most recent posted.
Contact:
Terri Steele
CONERGY
(720) 305-0704, desk
(858) 220-3317, mobile
t.steele (at) conergy (dot) us
# # #