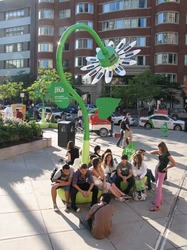 Coordinating the transportation and setup of five 14-to-18-foot tall Solar Flowers and bus shelters around the country, plus all the supporting trucks, lighting, labor, and security is like producing a concert tour
New York, NY (PRWEB) July 31, 2009
Xtension Marketing, a Los Angeles-based engagement marketing company, is the logistic muscle behind the eye-popping giant Solar Flowers sprouting up in major cities as part of the 2010 Toyota Prius 3rd generation launch.
The large flower sculptures provide free Wi-Fi access and laptop charging stations with help from solar panels. Accompanying the Solar Flowers in select cities are public bus shelters retrofitted with solar-powered fans to keep bus riders cool.
"We designed and fabricated the bus shelters to mirror the new solar-powered ventilation system in the 3rd generation Prius. It really showcases the technical features of the car," says Sean Lenihan, managing director of Xtension Marketing, a leader in integrating solar technology into engagement marketing productions.
The Solar Flowers and bus shelters debuted in Boston July 8-19. The tour moved on to New York City's Flatiron Plaza July 23-Aug. 2, with future stops in Chicago (Aug. 8-22), Seattle (Aug. 29-Sept. 7), San Francisco (Sept. 12-27) and Los Angeles (Oct. 3-18). Xtension Marketing is handling all event production and tour management services.
"Coordinating the transportation and setup of five 14-to-18-foot tall Solar Flowers and bus shelters around the country, plus all the supporting trucks, lighting, labor, and security is like producing a concert tour," says Lenihan.
"But companies are realizing that to engage the public's attention in a relevant way today, especially in a difficult economy, you need to do experiential marketing that showcases your product. You can't just put up a sign and call it 'event marketing.' The success of the Solar Flowers shows that there are reciprocal marketing concepts that can cut through the clutter and gain the public's attention in an engaging way," he says.
About Xtension Marketing
Xtension Marketing LLC, known until May 2009 as Automotive Displays, is a turn-key engagement marketing company based in Los Angeles. The firm is building on its successful track record in automotive engagement marketing as it expands to serve clients in a variety of industries. Using a virtual business model, Xtension Marketing provides cutting-edge event production services for top global brands including Toyota, Xbox 360, Lexus, Subway and Aston Martin. For more information, visit http://www.xtensionmarketing.com.
Contact:
Sean Lenihan, managing director
Xtension Marketing
310-447-5527
# # #