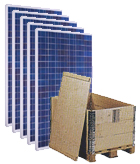 We will continue to deliver our clients the most competitive pricing on high quality solar panels and products
Reno, Nevada (PRWEB) May 25, 2012
AIMS Power has been supplying solar panels all around the world for some time now. The AIMS Power 230 watt solar panels are amongst the most popular PV panels and are being used more frequently in larger solar projects around the globe. The panel has all of the required approvals, certifications and warranties to be used in a utility approved PV system. These solar panels are available at the lowest price ever, directly from AIMS Power.
This week AIMS Power is excited to announce that these popular 230 watt solar panels will now be available for $0.99 a watt. AIMS made the decision to lower prices to remain competitive and continue to acquire larger solar PV projects. "We will continue to deliver our clients the most competitive pricing on high quality solar panels and products," Bruce De Jong, President of AIMS Power.
Along with solar panels AIMS Power also offers a full line of Kaco Blue Planet grid tie inverters. The Kaco New Energy line of grid tie inverters is one of the best in the world. Kaco New Energy has been making inverters for over 60 years. When you combine the power and quality of AIMS solar panels and Kaco Blue Planet grid tie inverters, the result is a highly efficient and affordable system.
As a stocking distributor of Kaco New Energy products, AIMS Power offers the lowest pricing on all Kaco Blue Planet inverter products.
About AIMS Power Inc.
AIMS Power Inc., headquartered in Reno, Nevada, offers a complete line of dc to ac power inverters. AIMS Power Inc. delivers industry leading products in both pure sine wave and modified sine wave, including 12 volt inverters, 24 volt inverters, 48 volts inverters, inverter chargers and low frequency inverters. AIMS power inverters are used around the globe in many different applications including mobile businesses, off-grid power systems, emergency back-up power systems and sump pump backup systems. In addition AIMS power inverters can be used in work trucks, fleet vans, luxury motor coaches, charter buses, conversion vans, rescue and fire vehicles, RV's and boats. AIMS Power Inc. also offers solar charge controllers, KACO Blue Planet inverters and solar panels in 12 volts and 24 volts. Established in 2001, AIMS Power Inc.