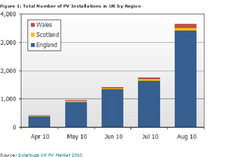 The challenge for companies is to construct business models that can deliver profitable growth while volumes are still low, while at the same time phasing their level of downstream investment consistent with the policy risk.
San Francisco, CA (Vocus) September 27, 2010 —
The solar photovoltaic (PV) feed-in tariff (FIT) program introduced by the United Kingdom in April 2010 has catapulted the UK into the mainstream of global PV market activity. According to the results of the Solarbuzz® UK PV Market 2010 report issued today, the UK's emergence could not be better timed, when taking into account the uncertain prospects for the dominant German market next year.
With FITs as high as 41.3 pence per kWh paid over 25 years, the foundations are in place for rampant PV market growth in 2011. Government incentives yield immediate installed PV system Internal Rates of Return between 8% and 11% over the next 12 months. Despite this, the UK market is already exposed to significant potential policy risks—more so than most other European markets—even though the FIT is only six months old.
Six market segments are emerging; five are on-grid, and one off-grid. 2010 demand has already seen rapid growth in residential installations, with the South East and South West regions accounting for 45% of the English part of the market in MW terms. In addition, an emerging pipeline of large scale commercial, agricultural and industrial projects are currently going through the application and permitting processes, ready to impact 2011 demand.
With several big name national utility and retail brands entering the UK market, they join a fast growing downstream installer network that exceeds 500 companies. The leading wholesalers and installers, constituting a group of eighteen companies, are well-positioned to serve the burgeoning market. Back in 2009, the top 3 of these accounted for 60% of shipped wholesale volumes.
"The early entrance of big name brands are helping to lend public confidence to what is generally a poorly understood renewable energy source in the UK," noted Alan Turner, Vice President of Solarbuzz Europe. "These companies join a multitude of European and international companies scrambling to establish early positions in this fast-growing embryonic market."
The wide range of end-market segments has led to four main downstream channels to market. These are not completely exclusive and examples of overlap can be found. In addition, novel business models are being advanced, still to be tested for practical viability, but with some gaining traction.
The fragmented end-market, together with the diversity of the installers and wholesalers, is further complicated by the 60 module suppliers that have already gained the accreditation necessary to enter the market. This downstream picture sets extreme challenges for solar companies to operate profitably in the UK.
"Notwithstanding the potential uncertainty over government policy, no major company can afford to ignore this market opportunity," concluded Turner. "The challenge for companies is to construct business models that can deliver profitable growth while volumes are still low, while at the same time phasing their level of downstream investment consistent with the policy risk."
The latest data-driven Solarbuzz UK PV Market 2010 report addresses government policy, market segmentation, market size, downstream companies and shipments, module mix, factory gate and installed PV systems pricing, and a five-year market forecast, For more information or to order Solarbuzz regional reports, contact us at our nine global locations, email us at admin (at) solarbuzz (dot) com, or call 1.415.928.9743.
About Solarbuzz
Solarbuzz, part of The NPD Group, is a globally recognized market research-based business focused on the solar energy and photovoltaic industries since 2001. Solarbuzz clients include many of the largest global PV manufacturers, together with major investment banks, equipment manufacturers, materials suppliers, hedge fund companies, a wide range of other multi-nationals considering participation in this industry, and the largest PV system integrators. Solarbuzz offers a wide-array of reports, including Marketbuzz®, an annual global PV industry report, and Solarbuzz QUARTERLY, which provides historical and forecast data on the global PV supply chain. The company's research also provides annual downstream PV market reports by region for the European, Asia Pacific and US markets. In addition, Solarbuzz.com is a recognized and respected online resource for the solar industry. For more information, visit http://www.solarbuzz.com
About The NPD Group, Inc.
The NPD Group is the leading provider of reliable and comprehensive consumer and retail information for a wide range of industries. Today, more than 1,800 manufacturers, retailers, and service companies rely on NPD to help them drive critical business decisions at the global, national, and local market levels. NPD helps our clients to identify new business opportunities and guide product development, marketing, sales, merchandising, and other functions. Information is available for the following industry sectors: automotive, beauty, commercial technology, consumer technology, entertainment, fashion, food and beverage, foodservice, home, office supplies, software, sports, toys, and wireless. For more information, contact us or visit http://www.npd.com and http://www.npdgroupblog.com. Follow us on Twitter at @npdtech and @npdgroup.
Solarbuzz is a registered trademark of The NPD Group.
Media Contact:
Stacey Voorhees-Harmon
SAVVY Public Relations
Phone: 925-336-9592
E-mail: stacey(at)savvypublicrelations(dot)net
###