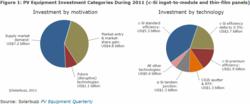 Aspirations of rapid market entry or market-share gains from lower tier cell manufacturers have been key factors behind the surplus in equipment spending during 2011. However, the second strong cycle of thin-film investments also peaked this year
San Francisco, Calif. (PRWEB) October 17, 2011
Global PV equipment spending (including c-Si ingot-to-module and thin-film panel) is now projected to fall by more than 45% in 2012, down from a historic peak of US$13.1 billion this year, according to the latest Solarbuzz PV Equipment Quarterly report. As a result, PV equipment suppliers are being forced to redefine their product roadmaps to align with the projected upturn in spending after 2012.
Almost half of PV equipment spending in 2011 has been stimulated by new entrants to the PV industry or from existing tier 2 or tier 3 manufacturers seeking to increase revenues simply by adding more capacity. The majority of this investment has turned out to be supplemental to the capacity required to meet short term industry demand.
Consequently, revenues available to PV equipment suppliers have been temporarily inflated by US$6 billion during 2011. The scale of this over-investment will not only drive the magnitude of the revenue declines during 2012, but will also prolong the spending downturn period into 2013.
According to Finlay Colville, Senior Analyst at Solarbuzz, "Aspirations of rapid market entry or market-share gains from lower tier cell manufacturers have been key factors behind the surplus in equipment spending during 2011. However, the second strong cycle of thin-film investments also peaked this year. This saw considerable funding being allocated to next-generation PV technologies."
Having posted positive revenue growth between Q3'09 and Q1'11, PV equipment spending during both Q2'11 and Q3'11 has declined by single-digit percentage points, as the slowdown in new capacity expansion starts to impact equipment suppliers' revenues. While strong Y/Y growth of 21% during Q3'11 will be highlighted during company reporting later this quarter, the leading forward indicators show sharp declines in new order intake, resulting from PV manufacturers' concerns over capacity and demand levels forecast for 2012. Double-digit Q/Q revenue declines are now forecast between Q4'11 and Q2'12.
The only PV equipment suppliers that will be shielded from rapid declines in revenues through 2012 are those with strong order backlogs aligned with polysilicon expansion phases in progress across the Asia Pacific region. This will actually drive Y/Y growth in revenues for a select group of companies meeting this upstream demand. Conversely, many other PV equipment suppliers will experience Y/Y revenue declines of 30-70%. Equipment suppliers that benefitted most from the c-Si wafer, cell and module expansions of 2011 will be the hardest hit during 2012, as new expansion plans are pushed out or postponed.
Tier 1 Manufacturers in Asia to Dominate New Spending Upturn
Upgrade and replacement equipment revenues in 2012 are unlikely to provide anything other than partial compensation for the significant declines in new capacity additions. Similarly, technology inflection points that may drive upside in tool revenues are likely to be spread across a wide range of competing high-efficiency schemes being investigated today. This gloomy outlook is further exacerbated by the continuous shakeout of uncompetitive PV cell manufacturers that will likely spread beyond Europe and North America during 2012.
As a result, PV equipment suppliers—historically driven by incremental capacity to meet end-market growth—are now adjusting strategies based upon new product roadmaps to focus on the leading tier 1 manufacturers across Asia. Fundamental to the success of these roadmaps will be predicting the timelines and scale of the upturn in PV equipment spending at the process tool level.
"The total addressable market for PV equipment today is heavily influenced by different investment motives and technology preferences, rather than capacity required under any rational supply-demand balance," added Colville. "Forecasting the spending cycles associated with these motives and technologies throughout the different stages of the value-chains will be essential for tool suppliers over the next few quarters."
The Solarbuzz PV Equipment Quarterly report enables PV equipment suppliers to navigate these challenges by identifying target customers or competitors, equipment revenues on offer (down to the key process tool level), and the precise timing of each PV manufacturer's fab expansions by quarter to 2015.
The Solarbuzz PV Equipment Quarterly features a comprehensive capacity and production database, incorporating proprietary Solarbuzz industry knowledge across over 380 c-Si cell and thin-film panel producers, and a PowerPoint report with extensive analysis on technology and equipment spending trends. All data and analysis is reassessed every quarter and includes expansion and spending activity from the immediate quarter closed for over 1,300 capacity expansion phases at over 640 fabs. The performance of leading PV equipment suppliers is analyzed and forecast 12 months out, including PV-specific process tool revenues, bookings, and backlogs.
For more information or to order the Solarbuzz PV Equipment Quarterly, contact us at one of our seven global locations, email us at contact(at)solarbuzz(dot)com, or call Charles Camaroto at 1.516.625.2452 for more information.
About Solarbuzz
Solarbuzz, part of The NPD Group, is a globally recognized market research business focused on solar energy and photovoltaic industries. Since 2001, Solarbuzz has grown its client-base to include many of the largest global PV manufacturers, major investment banks, equipment manufacturers, materials suppliers, hedge fund companies, and a vast range of other multi-nationals. Solarbuzz offers a wide array of reports, including Marketbuzz, an annual global PV industry report, and Solarbuzz® Quarterly, which details both historical and forecast data on the global PV supply chain. The company's research also provides annual downstream PV market reports by region for Europe, Asia Pacific and US markets. In addition, Solarbuzz.com is a recognized and respected online resource within the solar industry. For more information, visit http://www.solarbuzz.com or follow us on Twitter at @Solarbuzz.
About The NPD Group, Inc.
The NPD Group is the leading provider of reliable and comprehensive consumer and retail information for a wide range of industries. Today, more than 1,800 manufacturers, retailers, and service companies rely on NPD to help them drive critical business decisions at the global, national, and local market levels. NPD helps our clients to identify new business opportunities and guide product development, marketing, sales, merchandising, and other functions. Information is available for the following industry sectors: automotive, beauty, commercial technology, consumer technology, entertainment, fashion, food and beverage, foodservice, home, office supplies, software, sports, toys, and wireless. For more information, contact us or visit http://www.npd.com and http://www.npdgroupblog.com. Follow us on Twitter at @npdtech and @npdgroup.
Solarbuzz and Marketbuzz are registered trademarks of The NPD Group.
Media Contact:
Lauren Leetun, APR
SAVVY Public Relations
Phone: 407-592-7923
E-mail: media(at)displaysearch(dot)com
###