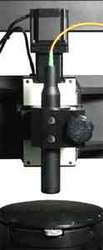 We are very pleased with the opportunity that the Photovoltaic industry has given to our Profilometer business. We have always been very proud of our technique and this really spotlights what we've known for a while now
Irvine, CA (PRWEB) July 9, 2009
Unlike the others, Nanovea's White Light 3D Non-Contact Profilometers can precisely measure glass surfaces, light absorbing materials and wafer bowing with superior accuracy and speed. Offered as a stand alone instrument or an integrated inline inspection system ideal for inspection at all stages during solar cell production.
Measurement capabilities are flexible enough to provide accuracies to measure glass roughness less than 10nm, photovoltaic roughness in the micrometer range, trace heights typically in the 10's of micrometers and a broad range to measure wafer bowing which could be larger than 1mm. No other Profilometer is capable of matching the precision, speed and broad application use of Nanovea's Profilometers; now add solar production efficient to the list.
All Nanovea Profilometers use the same Technique and Software. Nanovea PRVision is also an option on most Profilometers for auto pattern recognition. Profilometers speeds range from 20mm/s to 1m/s for laboratory or research to the needs of hi-speed inspection. Nanovea Profilometers can be built with custom size, speeds, scanning capabilities, Class 1 Clean Room compliance and with Indexing Conveyor.
"We are very pleased with the opportunity that the Photovoltaic industry has given to our Profilometer business. We have always been very proud of our technique and this really spotlights what we've known for a while now," said Craig Liesing Product Manager.
# # #