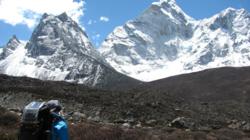 As far as performing, it was absolutely the best
San Jose, CA (PRWEB) August 30, 2011
Dean Sala, Suntactics COO, recently had a local woman climber, who was a member of a team that went to Tibet to climb Mount Everest, ask him to help her with a clear sleeve cover attachment to the top of her backpack for her Suntactics solar charger. Although Meg Johnson did not reach the top, the Suntactics Charger did survive the extremely harsh and cold environment in this recent accent to Everest.
"What I like the most about the panel besides that it kept my iPod charged all the time is that it was light and very easy to use. Plug and charge. Some people had different panels but they had to charged them first in order to charge their devices and they were much heavier than mine. As far as performing, it was absolutely the best. I took it to above 5800 meters in extreme cold and blowing snow and it never stopped working. I had a lot of people asking about it when I was there."
Other customers who use the sCharger-5 for outdoor adventures have been supportive in their product reviews. They want others to know about our dependable hassle free solution to solar charging needs.
"Took this on a backpacking trip in July with my 3g iPhone and I was the envy of my camp mates. I did "opportunity charging" any time we stopped, including typically about 1 hour for lunch in full sun and was able to keep the phone battery adequately charged."
"The Suntactics worked great with my iPhone 3, 4 and my iPad. My son and I went river rafting for three days this last summer. During the day we ran the rapids while we charged the iPad. Each night we had full batteries while we watched movies in our tent!"
Customers depend on their remote devices to perform in a wide variety of environmental conditions. They need a highly reliable solar charger that provides the power to meet those requirements. That is why they chose the simple to use and hassle free sCharger-5.
# # #