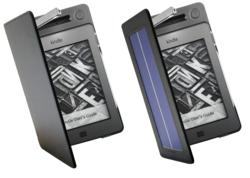 "We want to provide green power for portable electronics that will give customers the satisfaction that their devices are eco-friendly while having extended power." – Dick (Jr.) Lu, Executive Vice President
Taipei, Taiwan (PRWEB) July 26, 2012
Solar Focus, an international leader in manufacturing solar powered portable accessories, is the first company to introduce new solar powered Kindle cases. Their cases feature a built in LED light and charging capabilities.
Ingram Micro Inc., the world's largest technology distributor, is now offering Solar Focus' popular line of hi-tech products for Kindles to technology resellers in North America. This distribution is part of the standing agreement with Global Marketing Partners, a leading technology aggregator and distributor.
Solar Focus is well reputed for its selection of on the go ecofriendly products. For years they have been producing the world's most innovative solar products, and are now debuting their line of solar Kindle cases into the technology industry. They are releasing a lightweight, simple and slim solar powered case for Kindle Touch and Kindle 4. The cover offers 3x the regular reading time, on the go charging (indoors and out), backup power supply and a built in 800lux peak full-coverage LED reading light. In addition, they are debuting a hard shell Kindle case for basic protection. Solar Focus prides itself on not just creating eco-friendly products, but high quality products that are convenient and easy to use.
Solar Focus is a company dedicated to solar energy solutions for consumers' daily mobile usage. Solar Focus won the 2012 CES Innovation Award in eco-design and sustainable technology product category, and are enthusiastic about their new distribution agreement with Global Marketing Partners and alliance with Ingram Micro.
About Solar Focus-
Since 2005, Solar Focus has been at the forefront of the renewable energy revolution by providing competitively priced, energy saving and environmental-friendly solar powered products to both industry and consumers. As an industry leader in solar research and innovative product development, Solar holds several solar technology patents with their products routinely used in such extreme environments as the Himalayas and the North Pole.
About Global Marketing Partners-
Global Marketing Partners, headquartered in Agoura Hills, CA, is a leading aggregator, marketer and distributor for emerging technology companies in the IT supply chain. In partnership with the largest technology distributors, Global provides companies with fast, affordable and flexible access to over 180,000+ Channel Resellers, including Amazon.com, Walmart.com, Bestbuy.com and Newegg.com. For more information, visit http://www.globalwrx.com