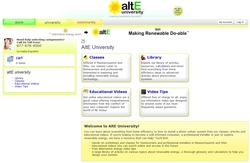 At first, we learned that we needed to empower our customers with real information about making their home more efficient and about the basics of renewable energy
Hudson, MA (PRWEB) January 19, 2009
Hudson, Massachusetts based AltE University, the educational branch of leading online alternative energy retailer AltE, is expanding its class offering in 2009. Seeing the opportunity for training installation professionals as well as residential DIY alternative energy enthusiasts, multiple educational tracks will now be offered to better serve students.
AltE University began offering classes in 2007 and has now educated over 500 people in multiple classes from basic introduction to renewable energy to advanced classes on installation of photo voltaic solar panel systems. Offering renewable energy seminars in their Hudson, Massachusetts headquarters as well as online, AltE U is also now offering classes in Columbus, Ohio.
"Being your friend in Renewable Energy is more than just taking a call and putting together a quote for a system. Every customer we work with is unique and has an interesting challenge and in order to make sure we get folks the right technology, we need to speak the same language. By offering education, online and in person, we develop that common ground -- ensuring a positive experience for our customer from their first call through their installation and into the future," explained Sascha Deri, the CEO of the AltE.
"At first, we learned that we needed to empower our customers with real information about making their home more efficient and about the basics of renewable energy," continued Deri. "The more customers we worked with, the more we saw the need for offering deeper and more comprehensive educational opportunities through classes and presentations. Folks come to us from all walks of life; we work with homeowners who want to make their homes more efficient and folks who want to live completely off grid. We developed AltE U to help anyone prepare for alternative energy and to then actually implement the solutions," finished Deri.
As interest in renewable energy has grown with recent erratic change in oil prices and rising concern for global climate change, class participation has also bloomed and AltE University began offering classes on solar thermal technologies and wind power, as well as on solar panels and home energy efficiency. Initially geared primarily towards the DIY homeowner, class makeup began to shift throughout the year, with more and more electricians, plumbers and general contractors making up the class population.
"We've learned a lot in our first two years of educating folks. It was becoming obvious that while the classes we offered were certainly worthwhile for both laypeople and professionals, if we wanted to take AltE University to the next level, we needed to tailor our classes more specifically for our different audiences," explained Kristen Ferguson, Education Program Manager of AltE University.
Education about alternative energy is a fast growing segment for AltE. Working with consumers in a classroom environment allows people to identify their needs, assess costs and return on investment and accurately gauge if a Do It Yourself renewable energy project is for them. Professionals can assess which technologies they are well suited to install and ultimately can learn what their next steps should be for becoming professionally certified.
In 2009, AltE University will be offering multiple tracks and opportunities for students. Tracks include, Basics of Renewable Energy & Energy Efficiency, Solar Electricity (PV), Solar Thermal - Water and Air Heating and Wind Power Systems.
"We've maintained the basic curriculum for our homeowners in all of our tracks so anyone that is curious about implementing solar thermal technology, solar electricity or wind turbines can come to one of our classes and leave as a well informed consumer. We've also added what we call the 300 series - PV301, 302 and 303 which are aimed at people who want to install photo voltaic systems professionally or who actually want to install systems themselves on their homes. These more advanced classes are to be held over multiple days and will involve labs and actual installations," continued Ferguson. "We're excited to grow AltE University in 2009 and look forward to doing an even better job for homeowners and contractors with our new strategy and organization."
About AltE:
Originally founded in 1999 as the Alternative Energy Store, AltE Inc has catered to customers on every continent of the globe.
AltE, a 2006 Inc. 500 awarded company, aims to fulfill its motto, "Making Renewable Do-able," by offering cost competitive, high-quality renewable energy related products, solutions and educational opportunities to a broad spectrum of the public.
AltE's headquarters is located at 43 Broad St, Suite A408 in Hudson, Mass. For more information visit their website at http://www.altEstore.com or contact Toll Free (877) 878-4060.
###