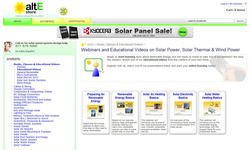 Our goal has always been to offer as many educational opportunities to all as possible. We truly want to
Hudson, Mass. (PRWEB) July 22, 2009
Hudson, Massachusetts based renewable energy e-tailer AltE® Store, the retail division of AltE® is making educational videos available on their website for free to the public. These non advertorial online webinars cover topics including Preparing for Renewable Energy, Renewable Energy Basics, Solar Air Heating Basics, Solar Electricity Basics and Solar Water Heating Basics. The webinars can be found on the web at http://www.altestore.com/webinars.
"We initially offered our renewable energy webinars for a small fee, but as we've grown in the past year, it became obvious that these incredibly useful educational tools would better serve our customers, and even our own company if they were offered free of charge," explained Sales and Marketing Manager Blair McCracken Stephens.
The online videos range between 40 minutes and an hour and are narrated presentations walking consumers through all the information they need to properly consider renewable energy as an option. AltE® has long been providing free alternative energy educational materials to consumers worldwide, and their commitment to balanced, objective and "sales pitch free" content can be experienced in their articles, and in the fast growing AltE® University.
"Anyone that is ready to invest in renewable energy should be well versed on a variety of topics. First, they need to be ready - which means their home is energy efficient and they understand their own energy consumption, including electricity and heating demands. Then there are system basics, which system is right for them, their investment and the tax credits and incentives. So you can see, for us, offering as many opportunities for free education to our customers to help them make the most intelligent renewable energy system investment decision is in our best interest, as well as theirs!" explained Sascha Deri, CEO of AltE.
Along with the free articles and educational videos, AltE also uploads video tips to YouTube and AltE Store works closely with AltE University, now a IREC certified training center, to make sure all of the technical sales reps are well versed in technology and consumer education. Customers are also encouraged to enroll in beginner's seminars or the accredited solar professional seminars held in the Hudson, MA headquarters that take a deeper look at the various alternative energy technologies and provide hands on experience to help people learn about solar panels, wind turbines and solar thermal.
"Our goal has always been to offer as many educational opportunities to all as possible. We truly want to "Make Renewable Do-Able™" and we know the best way to do that is to spread the word to everyone that's interested! We plan to add additional webinars about topics like Wind Energy and Solar Water pumping within the next six months. In the meantime, we hope as many people as possible find the free resources here at AltE to get excited about renewable energy and to make sure their journey as informed consumers goes as smoothly as possible!" finished Deri.
About AltE®
Founded in 1999, AltE®, Inc has catered to customers on every continent of the globe. A 2006 Inc. 500 awarded company, AltE® aims to continue to fulfill its motto, "Making Renewable Do-able," by offering cost competitive, high-quality renewable energy products and educational services to a broad spectrum of the public. AltE® headquarters is located at 43 Broad St, Suite A408 in Hudson, Mass. For more information visit their website at http://www.AltEStore.com or contact Toll Free (877) 878-4060.
###