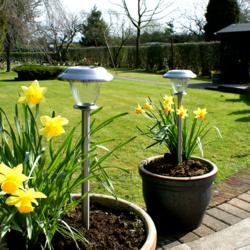 To celebrate the launch of the website they are actually offering a 20% discount on all purchases for the whole of May.
Chorley, Lancashire (PRWEB UK) 4 May 2012
The enthusiastic team behind brand new website solarpowercentre.com are hoping that their site, which exclusively sells solar products, will encourage people to go green with their garden lighting this year. The site sells a variety of solar lights, from practical items like Solar Shed Lights and Solar Security Lights, to novelty items like ornamental solar motorbike lights or even Garden Lamp Posts. In order to encourage people to buy these environmentally friendly garden lighting products, they have employed an aggressive pricing policy with new offers being added on a regular basis.
To celebrate the launch of the website they are actually offering a 20% discount on all purchases for the whole month of May. This can be triggered by entering the voucher code launch20 at the basket. They also have solar fairy lights on sale for as little as £9!
With concerns about the environment and the use of non-renewable energy resources growing, solar power is increasingly being considered as a viable alternative. Solar products draw upon energy from the sun and as such do not use any electricity, meaning that they are both environmentally friendly and cost-effective.
In the past there have been concerns about the performance of solar lighting, but advances in technology have meant that such concerns are now largely unfounded. Solar lights are a practical way to illuminate your garden or outdoor space, without the need for complicated wiring and massive electricity bills. Daniel Almond, Project Manager at Solar Power Centre stated that, "Demand for solar products has grown massively over the last few years and perhaps as a response to this the quality and variety of solar lighting has improved exponentially, to the point where some people are unable to tell the difference between solar and mains lighting".
The people behind Solar Power Centre are hoping that you might join them on their quest for a greener world. That's why they reward loyalty on their website, with a loyalty points scheme that gives you £1 off for every £20 that you spend.
You can also follow them:
On Facebook: SolarPowerCentre
On Twitter: @solarpowercentr