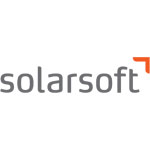 Shanghai, China (PRWEB) December 09, 2011
Solarsoft Business Systems, a leading provider of enterprise software and IT services to manufacturers worldwide, today announced the addition of experienced sales and customer support staff for its growing operations in China. The new team members will be located in the Shanghai office, and will provide local support for Solarsoft's enterprise resource planning and manufacturing execution and intelligence solutions.
"We are excited to add to our customer support team in China," says Jennifer Coombes, Vice President of Customer Services at Solarsoft. "Our new team members bring with them a wealth of experience in enterprise resource planning (ERP) system implementations and IBM Global Services. The investment in our local team will ensure that all local services provided meet the high standards that Solarsoft customers around the world have come to trust."
About Solarsoft Business Systems
Solarsoft provides modern enterprise software and IT services to manufacturers, distributors and wholesale businesses in North America, Europe and Asia. The company has grown organically and through acquisition since 1986 and has worldwide revenues of US$100 million. Solarsoft employs more than 400 professionals providing local support across 16 time zones. More than 2,000 companies rely on Solarsoft to bring clarity and efficiency to their daily operations. For more information please visit http://www.solarsoft.com.
###