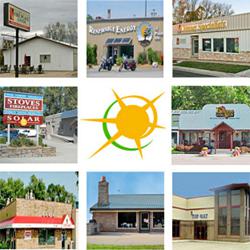 Every NASS Member Solar Store Has A Real Retail Business Location That You Can Visit To Learn More About Solar Energy.
Highland, WI (PRWEB) October 16, 2012
North American Solar Stores (NASS) makes it easy for consumers to see and learn about new cost-saving solar technologies in their own neighborhoods, without the risks of unknown internet sellers, and with the ability to speak with the solar experts directly for first hand information.
Ever increasing energy costs have caused consumers to take a serious look at the solar alternative," said George Briewa, NASS CEO "Our new solar store brand will clearly communicate where homeowners can come to get expert assistance and high-quality solar products.
The days of solar energy enthusiasts deciphering solar technology online or from a catalog without seeing the solar panels in person are now over. Consumers who want to take advantage of the solar energy revolution can now look to an association of reliable, local, and reputable solar stores for solar equipment purchases and solar installations. This network of solar stores makes affordable solar technology readily available to consumers in a completely new context.
The solar industry also includes ever-changing solar tax incentives and rapidly progressing technologies. The premier network of independent solar stores - NASS, has set out to simplify residential and small business solar purchasing.
To enhance the consumer experience, NASS has partnered with a strategic selection of the best Hearth & Home product stores to expand their offerings to include Solar PV and Solar Hot Water for residential and local business use. The NASS network trains and educates the service technicians at these stores to enable them to assist homeowners and small businesses with their solar needs.
NASS network educators train each store's certified technicians on how to help walk consumers through the processes of designing, purchasing, and installing solar energy products to create a simple and easy to understand experience. With these partnerships, NASS has found a unique way for solar panel purchasing to come from a credible, reliable network of well established neighborhood stores who have been professionally engaged in the development of the alternative/renewable energy industry since its inception in the 1970s.
Today, the solar industry is fragmented, and customers are hesitant to trust a recently opened solar store due to their limited customer base and no proven track record. NASS members all have well-established businesses in the Hearth and Home, HVAC or alternative energy industry. Each store also has a well-known brick and mortar location in their respective community and every location has a strong customer base built from many years in business. Now, with the NASS network resources and training, member stores also supply the community with high quality solar PV and solar thermal panels to meet the alternative energy needs of the local area.
This expanding NASS network now boasts 26 solar stores across the United States and Canada, with new carefully selected stores being added rapidly as the concept takes off. While the network is growing fast, the entrance standards have remained high to maintain the integrity of the network. Individual stores admitted to the network must match the specific financial stability criteria and commit to the training and standards set by the network.
The commitment required by the NASS members includes preliminary and on-going education and training. All training is provided at the NASS Solar Training Institute in Madison, WI. Every solar technician in the network must attend the continuing education classes and field training to learn the latest solar information and best practices. This on-going training sets the NASS member stores apart from many other solar stores or solar contractors.
The NASS curriculum was created under the direction of ISPQ Certified Master Trainer, Chris LaForge in partnership with the MREA (Midwest Renewable Energy Association). The Solar Training Institute has a rigorous schedule of requirements that provides our professionals with a real competitive edge over other solar providers. Best practices are shared throughout the NASS network building continuously on our commitment to continuing education.
This unique model for a renewable energy store is rapidly catching on in every state and Canadian province and is on track for the North American Solar Store brand to become a household name. This personalized buying experience is truly revolutionary for the solar energy industry, and will continue to increase consumer access and confidence in solar energy.
The NASS network solar stores are currently located in Alaska, Arkansas, Connecticut, Delaware, Iowa, Illinois, Indiana, Kentucky, Massachusetts, Minnesota, New Jersey, New York, Ohio, Oregon, Pennsylvania, Vermont, Wisconsin, and the provinces of British Columbia, Ontario and Nova Scotia. There are also NASS locations coming soon in several other states and provinces across North America.