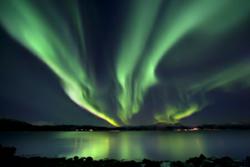 An immense solar storm could actually create a global scale blackout lasting for years.
Orlando, FL (PRWEB) May 08, 2012
Throughout the year, scientists predict that solar storms will occur at a magnitude not seen in a decade. These storms will produce vibrant northern and southern light displays as well as wreak potential havoc on the world's power grid and communications systems. In preparation of the anticipated interest in solar storms and aurora activity, Stocktrek Images has unveiled a multitude of space weather images. These photographs are available for license and purchase at its website, http://www.StocktrekImages.com.
Ryan Rossotto, Stocktrek's president said that, "The solar storms that are occurring now and in the near future will produce some of the most spectacular northern light activity that has occurred in quite a while. The stunning colors and dancing lights provide a great deal of evening entertainment for young and old alike."
Aurora light displays are always precipitated by solar storms, 93 million miles away on the sun. When a sunspot emits a burst of radiation into space, the earth often lies directly in its path. These solar storms eject charged particles that hit the earth with wide ranging consequence.
The most notable effect from a solar storm is the aurora borealis(northern lights) and aurora australis (southern lights). In addition, these geomagnetic storms can also overload networks, causing communications and navigation satellites to fail, leading to power grid failures and global blackouts. Other possible effects from a solar radiation burst range from communication outages to blackouts.
Rossotto said that, "Most people don't understand that northern light displays are a result of solar storms that can have negative consequences on our infrastructure. It is a known fact that an immense solar storm could actually create a global scale blackout lasting for years. It makes you think about our place in the universe, and how natural phenomena such as solar storms could impact our daily lives."
Stocktrek Images offers stunning solar activity images to the public under royalty free and rights managed licensing. In addition, customers may order framed art prints of any picture at its website. Anyone interested in solar storm activity is invited to visit http://www.StocktrekImages.com to peruse its various offerings.
About the Company: Stocktrek Images is a stock photography agency specializing in imagery of military forces, space exploration, dinosaurs, volcanic activity and underwater photography. In addition to licensing royalty free and rights managed stock photos and illustration, Stocktrek also provides customers with the capability to purchase any images as a print or poster. It offers many different types of wall décor, from wall murals and canvas art, to basic prints with custom framing.
While Stocktrek is primarily known for its space and military content, it continues to expand its various product offerings. Stocktrek represents the talented work of photographers and artists worldwide, with over 15,000 images in its online library, and thousands more in-house. Stocktrek is an independent, privately owned business entity.