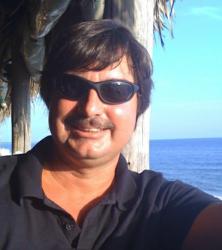 It's a great time for every professional Networker to look at Solavei™
St. Louis, Missouri (PRWEB) September 16, 2012
Randy Ford has a knack for picking companies in the Direct Sales industry. Randy, at his vacation home in Panama City, FL last week said, "It's a great time for every professional Networker to look at Solavei™."
"I'm happy to have earned my spot out of 25,000+ new reps in this company as #161 and win a free trip to Bellevue, WA for the official launch of Solavei™. I'm especially thankful to our great team of experienced networkers. People like 'Coach' Kenneth Redman, who will be joining me in Bellevue for he launch this week, he is a Life Coach, Speaker, and Mentor to many in the Direct Sales industry and Jeanne Cordingley, another one of our exceptional team members who loves this industry and values relationships and knows Network Marketing inside and out," Randy went on to say.
Among the markets being targeted by the DREAM TEAM are: Seniors, Hispanics, Stay-at-Home Moms, Americans with Disabilities, College Students, Soldiers and Military Veterans from all branches of the service and they even have a program for former felons. "Sometimes it can be very difficult for former felons to find work; especially in this economy," says Ford. "We hope to provide a great opportunity to many struggling Americans now."
Solavei™ is a social networking and commerce platform that enables users to connect, share and capitalize on the power of social networks. Solavei's mission is to make commerce less expensive by empowering individuals to earn income on the products and services they enjoy and use every day.
Solavei's initial product offering is 4G unlimited talk, text, and data with no contract for $49 a month. It operates as a MVNO through a strategic partnership with T-Mobile USA. Solavei is led by former Fortune 100 telecom and retail executives and advisors.
Solavei™ the Company will officially launch September 21 says Jeanne Cord, a Founding member of the Coach Redman/Randy Ford DREAM TEAM.
To interview for a spot on the Redman/Ford Solavei™ DREAM TEAM visitors can inquire at BestDayofUrLife.com or IfoundtheGold.net