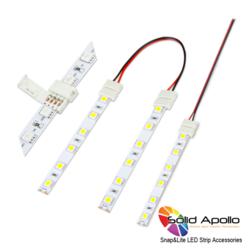 Our aim is to constantly design new product solutions that solve every day issues for our clients. We are always creating new accessories that can save time and energy for anyone using LED light strips
North Seattle, WA (PRWEB) May 01, 2012
Solid Apollo is committed to bringing customers new cutting edge products in an effort to make LED Strip installations easier to design and implement. With that in mind, it is no surprise that Solid Apollo has once again solved several difficult obstacles encountered when installing linear LED Lighting systems. In the past, installers had to solder connections in order to customize individual projects, this took a lot of time and specific skills to achieve.
With the new Snap&Lite Easy Connector Accessories from Solid Apollo, it is finally easy to power up, splice and re-connect LED Strip Lights. These accessories make it easier to negotiate corners, re-power pre-cut strips, and configure an LED Strip installation in a variety of ways. These connectors are the first of their kind and offer a vast improvement over the old alternative that required cumbersome soldering skills.
"Our aim is to constantly design new product solutions that solve every day issues for our clients. We are always creating new accessories that can save time and energy for anyone using LED Light Strips" states Solid Apollo's President, Manuel Barquin.
The Snap&Lite LED Strip Lighting Accessories offer a wide range of solutions: LED Strip Joiners enable users to join two pieces of strip seamlessly, LED Strip Interconnectors are perfect to use when going around corners or to change the angle of installation and LED Strip Power Adaptors make it easy to re-power any cut strip. These accessories are available for 8mm, 10mm and RGB LED Strips.
About Solid Apollo.com: Solid Apollo is a cutting edge LED Lighting Company which designs, produces and distributes a wide range of High Quality LED Lighting Products and lighting solutions to meet today's ongoing, new generation, lighting demands. For more information visit: Solid Apollo at http://www.solidapollo.com or call toll free 866-592-3873. Order online or send an email to sales(at)solidapollo(dot)com.