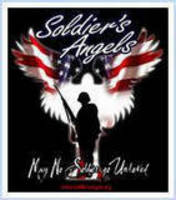 Pasadena, California (PRWEB) August 12, 2007
A wounded American soldier lies in a bed in a military hospital in Lundstahl, Germany. He is post-op, in intensive care, and holding on to his life. He is literally across an ocean and thousands of miles from home. The military rushes his mother and father to his side. His grandmother wants to see her grandson and support her daughter but the family does not have the money for the last minute airfare. Military regulations prevent the Army from paying for her flight. She calls Soldiers Angels, a military support charity. A ticket is purchased for her through the use of donated air miles and she is on her way to Germany on the next flight. She is able to comfort her daughter and hug her grandson. A family who has given more than they can realize to their country is united at a time of need.
Back in the United States a soldier sits in her room at Walter Reed Army Hospital in Washington, DC. She suffered many wounds in an IED attack. She is working her way through physical therapy, depressed and wondering if she even wants to continue living. She receives an offer for a free weekend trip at a vacation spa in California. She wants to go, she needs to go, but she cannot afford the airfare. She calls Soldiers Angels and she is connected to a volunteer who has donated air miles. Her plane ticket is purchased and she begins to feel like her old self again.
A soldier returns to his home base from Afghanistan. He is stationed on the west coast and learns that his mother lies in a hospital in Ohio dying from cancer. The doctors give her a few days at the most. He simply does not have the money to purchase a plane ticket and a bus ride will not get him home in time. He calls Soldiers Angels and the next morning he is on a plane. He arrives at the hospital and is able to spend that last few hours of his mother's life holding her hand.
These stories do not scratch the surface of the help provided by the American people through Soldiers' Angels Air Miles Donation Program. Soldiers' Angels receives request for flights on a daily basis, whether it is a soldier trying to get home because of a death or seriously injured family member, a family member trying to get to the bedside of a wounded warrior, or even a family member trying to get to a memorial service of a hero who has given his life for our country. Unfortunately, the requests always seem to outnumber the available air miles.
When emergencies, such as those described above, arise the donation of air miles is used to help get our troops and families to their destinations as quickly as possible. The donor maintains control of the air miles, but is contacted by a Soldiers' Angel when the need arises. Soldiers' Angels then works with the donor to get the flights scheduled. The aid and comfort brought by the donation of a few air miles is incalculable.
In the summer of 2003 by Patti Patton-Bader was inspired to found Soldiers' Angels when her son wrote home from Iraq expressing his concern that some soldiers did not receive any mail or support from home. Within a few short months Soldiers' Angels had grown from a mother writing a few extra letters to an Internet Community with tens of thousands of angels worldwide. Continuing the time honored tradition of civilian support of American soldiers, Soldiers' Angels sponsors programs which provide support to American soldiers and their families. Soldiers' Angels' programs include first responder packs, support, and laptop computers to wounded soldiers who are receiving treatment at American military hospitals; care packages, letters, and support to deployed soldiers; providing emergency flights with donated air miles; armored blankets to military ambulances; items shipped for deployed soldiers to give children in war zones; and memorial trees for the families of soldiers who have died in the service of their country.
If you would like more information about this topic or to schedule an interview with Patti Patton-Bader, please call her at 617-676-0239.
###