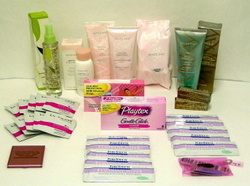 Our female warfighters are so strong and courageous, and we're so grateful for their service
Pasadena, CA (PRWEB) August 13, 2008
Soldiers' Angels and Mary Kay Independent Beauty Consultants have joined forces to announce Pretty in Pink, the perfect pampering kit for deployed American female service members.
Thanks to the generosity of Mary Kay Independent Beauty Consultants from all over the United States who have donated product to Soldiers' Angels, the Angel Store now has Pretty in Pink kits available for $29 (which includes shipping). Each kit contains at least seven Mary Kay products, plus 10 feminine wipes, 10 women's deodorant towelettes, two boxes of tampons, and a mini fingernail file and clipper set.
Soldiers' Angels understands that females are instrumental in the current war, and makes special efforts to support them. "Our female warfighters are so strong and courageous, and we're so grateful for their service," says Patti Patton-Bader, founder of Soldiers' Angels. "We're excited to be able to show them some extra love and help them remember that they're still ladies." With this in mind, the Pretty in Pink kit provides female service members with health and hygiene products, and items for a few pampering moments to allow ladies to rejuvenate and 'be good to themselves.'
Pretty in Pink kits must be sent to an APO/FPO (no residential addresses). They may be sent to a specific soldier, or supporters can request their purchased kit be sent to "Any (Female) Soldier" anonymously or in their name. Purchases and donations can be made through the Soldiers' Angels Store at http://www.angelsstore.org.
Soldiers' Angels is a volunteer-led 501(c)(3) non-profit organization providing aid and comfort to the men and women of the U.S. military and their families. Comprised of 200,000 volunteer members in over twenty different teams and programs, their activities include letters, care packages, and comfort items to the deployed, and support for their families at home. They also provide assistance to the wounded, continuing support for veterans, remembrances and comfort for families of the fallen, and immediate response to unique difficulties. For more info - http://www.soldiersangels.org.
###