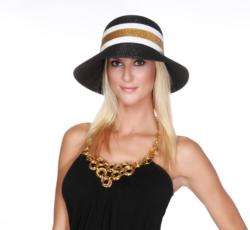 What would your resort and cruise wear be without a stylish sun hat?
Kentfield, California (PRWEB) November 29, 2012
What would your resort wear and cruise wear be without a stylish sun hat? Newly arrived, just in time for the Holiday Vacations to tropical beaches, resorts and cruises, is the Physician Endorsed 2013 sun hats collection.
The collection embraces Physician Endorsed signature style with guaranteed sun protection. It features resort and beach hats in fabulous materials and modern takes on classic styles without comprising the sun protection qualities. All Physician Endorsed sun protection hats have been tested and rated for 50+ UPF.
3 Styles Sure to be Hits Beach to Poolside:

Polo Club – A chic take on the cloche hat with beautiful Toyo straw and glamorous metallic straw combinations. This sophisticated feminine style will add instant polish to any vacation outfit. Comes in three color combinations: White/Navy/Silver, Black/White/Gold and White/Black/Gold.
D'Or – A classic raffia hat with a modern twist. This woven raffia with perfect sparkling metallic stripes adds effortless style and refinement lounging beach or poolside. Comes in Natural/Silver, Black/Gold and Natural/Gold.
Yin & Yang – Eye popping color, classic stripe and 5" shapeable brim makes this two-tone ribbon hat a great way to top off any outfit. Available in many beautiful colors: Turquoise, Navy, Black, Brown, and Fuschia.
Many of the sun hats are designed to travel by being packable and crushable making it a breeze to bring fashionable sun protection on your vacation. Additional great features are the adjustable headsize using an internal drawstring and the memory wire allowing great versatility.
Other must have sun protection essentials are uv rash guards and 35+ SPF sunscreen. SolEscapes carries rash guards and swim shirts from Victory KoreDry and suncare products including sunscreen and sunblock from Coola Suncare.
Coming soon is a new line of exclusive microfiber beach and pool travel towels in a luxurious size and a beautiful print. These gorgeous beach towels bring your travel towel to a whole new level. Also to come is the newly introduced Gottex Hats and Accessory line.
SolEscapes is a California based online boutique offering a unique selection of stylish and practical sun, beach and resort essentials for all your warm weather needs. SolEscapes offers personalized service, high quality products and fast affordable shipping. Merchandise including all beach hats are carefully and beautifully packaged to ensure a perfect arrival. For more information please visit SolEscapes.com. You can also connect with SolEscapes on Facebook, Twitter and Pinterest.