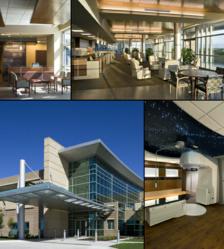 We're very pleased to say that we received significantly more nominations this year...It will be exciting to see who takes the crown in 2012.
Atlanta, Georgia (PRWEB) May 18, 2012
Soliant Health, a leading specialty healthcare staffing provider and part of Adecco Group, has opened up voting for its fourth annual 20 Most Beautiful Hospitals contest.
After receiving over 300 nominations, a panel of experts reviewed each hospital and picked the top 50 entries based on measures such as architectural style, photogenic properties, landscaping and distinctiveness. The voting for the top twenty hospitals is open at http://www.mostbeautifulhospitals.com until June 18th, 2012. Winners will be announced on July 1st.
"We're very pleased to say that we received significantly more nominations this year, which goes to show that beautiful hospital not only pleases the eye, but makes treatment a better experience, resulting in happier, healthier patients," said David Alexander, president of Soliant Health. "It will be exciting to see who takes the crown in 2012."
This year's 50 nominations include facilities across the United States with impressive features such as meditation trails, two-story waterfalls, healing gardens, reflection rooms, and even spas where visitors can enjoy tranquil and relaxing amenities, such as massages, a sauna, and yoga lessons. The top 50 nominations are as follows:

Banner Ironwood Medical Center San Tan Valley, AZ
Bellevue Medical Center Bellevue, WA
Bon Secours St. Francis Medical Center Midlothian, VA
Carolina Medical Center Pineville Charlotte, NC
Community Hospital of the Monterey Peninsula Monterey, CA
Dartmouth-Hitchcock Medical Center Lebanon, NH
Dixie Regional Medical Center St George, UT
Dublin Methodist Hospital Dublin, OH
Eisenhower Medical Center Rancho Mirage, CA
El Camino Hospital Mountain View, CA
Elmhurst Memorial Healthcare Elmhurst, IL
Florida Hospital Waterman Tavares, FL
Forest Park Medical Center Dallas, TX
Mercy Gilbert Medical Center Gilbert, AZ
Health Central Hospital Ocoee, FL
Health First Viera Hospital Viera, FL
Henry Ford West Bloomfield Hospital West Bloomfield, MI
Homestead Hospital Homestead, FL
Hospital for Advanced Medicine at Geisinger Medical Center Danville, PA
IU Health North Indianapolis, IN
Jackson Purchase Medical Center Mayfield, KY
LeConte Medical Center Sevierville, TN
Long Island Jewish Medical Center and Katz Women's Hospital Long Island, NY
Martha Jefferson Hospital Charlottesville, VA
Medical Center of the Rockies Loveland, CO
Methodist McKinney Hospital McKinney, TX
Methodist West Hospital Des Moines, IA
Miami Children's Hospital Miami, FL
Morristown Medical Center Morristown, NJ
North Shore Medical Center's Salem Hospital Salem, MA
Oregon Health & Science University (OHSU) Hospital Portland, OR
Orange City Area Health System Orange City, IA
Paoli Hospital Paoli, PA
Park City Medical Center Park City, UT
Phoenix Children's Hospital Phoenix, AZ
Riverside Medical Center Kankakee, IL
Saint Joseph London London, KY
San Juan Regional Medical Center Farmington, NM
San Francisco Veterans Hospital San Francisco, CA
Sentara Williamsburg Regional Medical Center Williamsburg, VA
Sky Ridge Medical Center Lone Tree, CO
SSM St. Clare Health Center Fenton, MO
Saint John's Health Center Santa Monica, CA
St. Joseph's Hospital & Medical Center Phoenix, AZ
St. Joseph's Regional Medical Center Patterson, NJ
University Hospital Ahuja Medical Center Beachwood, OH
Union Hospital Terre Haute, IN
UC San Diego Sulpizio Cardiovascular Center San Diego, CA
University of Kentucky Chandler Medical Center Lexington, KY
UPMC Hamot Women's Hospital Erie, PA
Soliant Health offers hospitals and other medical providers temporary and direct-hire healthcare professionals, including nurses, physicians, therapists and pharmacists, with placements in leading hospitals and facilities across the United States.
To vote, or learn more about last year's winners, visit http://www.mostbeautifulhospitals.com by June 18th, 2012.
For more information about Soliant, visit the company's website at http://www.soliant.com
About Soliant Health
Soliant Health, an Adecco Group company, is a leading provider of specialized healthcare staffing services to hospitals and healthcare providers. By supplying traveling healthcare professionals on both temporary and direct hire assignments, Soliant Health delivers comprehensive healthcare staffing services to leading facilities across the United States. Soliant's teams of professionals are qualified to fill physician, nursing, therapy, pharmacy, clinical research, imaging, and other healthcare positions.