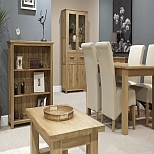 Our customers recognise quality and the feedback has been excellent
Preston, UK (PRWEB UK) 29 March 2012
Oak Solution, a leading retailer of solid oak furniture, have recently expanded and introduced some new solid oak collections. They have said that the ever changing home environment and buying moods has led to a massive increase in demand for contemporary and modern furniture.
According to Oak Solution's experience, contemporary home styles are known to be simple and offer an uncluttered look, and people who have the desire to enjoy comfort and elegance in their homes prefer to choose contemporary home styles, just like the new Eton Solid Oak Range. Oak Solution say that the first thing buyers should ask is how important is it to have contemporary furniture at home. They say a good answer would be to look around the house and see what kind of furniture would look the best, and that when the buyer has every appliance, setting and design looking new and modern, it becomes a very automatic choice to go ahead with contemporary furniture.
Anthony Brookes, a furniture designer for Oak Solution, gave his insight:
"Many people choose the style of their furniture to match existing furniture. However, what we have been noticing recently is that many consumers are looking to change the whole mood of a room, and as a result, opt to either get rid of or move existing furniture into a different part of the house. Sometimes people just want a brand new fresh look and contemporary furniture will do just that rather than a more traditional rustic old range. The great thing about solid oak modern furniture is that it will add great value to any home."
Bearing this in mind, Oak Solution have introduced a market leading collection of furniture, particularly solid oak living room furniture. Oak Solution say that the Eton Solid Oak Range is in itself, a very worthy investment and is constructed from 100% solid oak and will therefore last a lifetime. Oak Solution believe that many other ranges out there will have veneered backs and sides, whereas the Eton Range is built from 100% oak along with dovetailed joints on drawers. They also say that if it is simply one or two pieces that customer's want to add to a room, then they also have the choice of metal or oak handles to match existing décor. They stress that the range is beautiful and elegant and offers a lot of variety, including solid oak desks, solid oak television cabinets and much more.
Miles Smith, a manager at Oak Solution, offered his opinion on the Eton Range:
"We only launched the Eton Range about a month ago but the interest shown has been overwhelming. I think what customers like are the choice of handles: if you don't want metal then use the oak and if you get tired of the oak then swap it with the metal ones. It's amazing how a small thing such as changing the handles can make such a big impact to a room. Our customers recognise quality and the feedback has been excellent. Even a small thing such as having internal lights on the dressers and display cabinets can make all the difference. The range is also priced very competitively in comparison to other solid oak furniture ranges and the fact that we can assure you that you will not have to change your furniture for a very long time makes the range worth investing in."
Oak Solution's Eton Solid Oak Range can be found at http://www.oaksolution.co.uk, where they are currently offering discounts on multiple item purchases and are happy for customers to give them a call on 01772 499081.